Less than half of UK women would call 999 when suffering symptoms of a heart attack
Heart disease kills more than 40,000 women each year in the UK, but many are unaware of the symptoms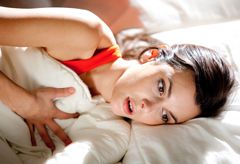 (Image credit: Rex Features)
Heart disease kills more than 40,000 women each year in the UK, but many are unaware of the symptoms
Despite women visiting their GPs more than men, less than half of UK women reported that they would call 999 immediately if they were suffering symptoms of a heart attack. Only one in ten said they had discussed the risk of heart disease.
The recent survey, conducted by the British Heart Foundation, polled 4,000 UK women and discovered that many were unaware of the symptoms of a heart attack.
'These results show serious gaps in the way women are thinking about heart health,' says Dr Mike Knapton, a GP and Associate Medical Director at the British Heart Foundation. 'Our findings highlight the common myth that heart disease is a middle-aged male health problem which simply doesn't affect women in the same way.'
A shocking 11% of women said they would just go to bed if suffering chest pains, while 7% said they would carry on as normal and ignore the symptoms.
Although the death toll from heart disease in Britain is higher for men, it continues to kill more than 40,000 women every year, which has led to the introduction of 'health MOTs', including heart health checks for over-40's in England.
'What we need is for funding to be backed up with some actual targets,' says Dr Kathryn Griffith, a York GP and president of the Primary Care Cardiovascular Society. 'Unfortunately, the people who will ask for vascular checks are not the people who should be asking.'
Enforcing the seriousness of the problem among younger women, she added: 'What really needs to happen is for a young, female character on Coronation Street or Eastenders to have a heart attack to really raise awareness.'
Celebrity news, beauty, fashion advice, and fascinating features, delivered straight to your inbox!