Lab-grown eggs provide unlimited fertility
Scientists have discovered women possess a potentially unlimited supply of eggs - raising new hopes for women with infertility problems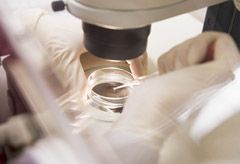 (Image credit: REX)
Scientists have discovered women possess a potentially unlimited supply of eggs - raising new hopes for women with infertility problems
A breakthrough may prompt a rethink in human fertility as scientists have discovered women have a potentially endless supply of eggs.
American doctors have shown that stem cells in adult women could be used to produce new eggs in the laboratory, providing hope for women who suffer infertility problems.
If confirmed, the research led by Dr Jonathan Tilly from Massachusetts General Hospital, will sweep away the belief that women have a limited stock of eggs, which deplete with age.
He explains that the findings could completely change the way doctors treat women with infertility issues and could delay the timing of ovarian failure.
'I think it opens up the chance that sometime in the future we might get to the point of having an unlimited source of human eggs,' he says.
Fertility expert Dr Allan Pacey from Sheffield University says: 'Not only does this re-write the rule book, it opens up exciting possibilities for preserving the fertility of women undergoing treatment for cancer and women suffering [from] infertility.'
The discovery would also give women the opportunity to give birth with their own eggs later on in life - and eliminate the idea - and pressure of - a ticking biological clock.
'If this research is confirmed it may overturn one of the great asymmetries of reproductive biology - that a woman's reproductive pool of gametes may be renewable, just like men's,' says consultant gynaecologist and IVF specialist Stuart Lavery from Hammersmith Hospital in London.
Celebrity news, beauty, fashion advice, and fascinating features, delivered straight to your inbox!