Overeating has become a national health issue
12 million people in the UK could be suffering from compulsive overeating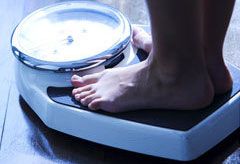 12 million people in the UK could be suffering from compulsive overeating
One in two people who seek out professional help for their weight suffer from compulsive overeating, says the National Centre for Eating Disorders.
Support group Overeaters Anonymous (OA) are using National Eating Disorders Awareness Week (25 February to 2 March 2011) to highlight the growing problem of the eating disorder and generate further support as it becomes an ever-increasing health issue around the country.
'It is important that people understand this condition is just as real as anorexia and bulimia,' says a spokeswoman from Overeaters Anonymous.
'Like anorexia and bulimia, compulsive overeating affects people from all walks of life; men and women, young and old.'
A recent survey conducted by OA suggested that over half of sufferers developed their eating disorder after a dramatic life event, such as death or worrying family issues.
The OA support group offers its members a 12-step programme - similar to Alcoholics Anonymous - that provides constant help and support to ensure a successful recovery.
Their spokeswoman continues: 'OA offers members a safe environment for anyone with any type of eating disorder to discuss their feelings and get to the root of the compulsive behaviour.'
For details on next year's event visit National Eating Disorders Awareness Week or for more information on Overeaters Anonymous visit their website.
Celebrity news, beauty, fashion advice, and fascinating features, delivered straight to your inbox!
Natalia is a health journalist with 14 years experience in the publishing industry. She has worked for a number of well known magazines and websites including Marie Claire, Woman&Home, Top Sante, Boots and The Telegraph. She likes to think she practices what she preaches when it comes to health and fitness. Her athletic prowess began early. A keen fencer for 13 years, she wielded an epée for Olympic Team GB during her teenage years. She likes to think she made sword-fighting cool before Game of Thrones came along! While working on her sporting performance with the team, she also participated in a lot of nutrition and psychology training, When it comes to time off, you'll most likely find her up a mountain somewhere. It seems holidays have become a time for climbing several thousand feet, rather than chilling out. She's now hiked eight of the major mountain ranges across four continents – including the Appalachians, the Smokies, the Sierra Nevadas (she spent her honeymoon hiking to the top of Half Dome), as well as hitting the summits of Snowdon, Pen-Y-Fan (Brecon Beacons), Table Mountain in South Africa, the Blue Mountains in Australia and the Atlas Mountains in Morocco. She's also passionate about all things health, particularly vaccinations, and will happily jump on her soap box at any given opportunity to talk about their benefits to anyone who will listen!