Coffee could reduce breast cancer risk
A cup of coffee may give you more than an energy boost as studies suggest it could reduce your risk of breast cancer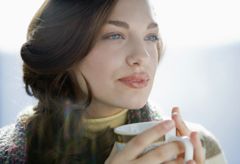 (Image credit: Rex Features)
A cup of coffee may give you more than an energy boost as studies suggest it could reduce your risk of breast cancer
Each year, 45,000 women are diagnosed with breast cancer, but scientists suggest drinking five or more cups of coffee a day could reduce your risk of developing the disease.
Consuming a regular amount of coffee could protect women against breast cancer,with research suggesting regular drinkers could reduce their risk of developing malignant breast tumours by 20 per cent.
The study conducted by experts from the Karolinska Institute in Stockholm found female coffee drinkers had a lower incidence of breast cancer than those who rarely drank the hot beverage.
The journal Breast Cancer Research reports: 'A high daily intake of coffee was found to be associated with a statistically significant decrease in oestrogen-receptor negative breast cancer among post-menopausal women.'
From the 6,000 females analysed during the study, those women who drank five or more cups of coffee a day reduced their risk of breast cancer by 57 per cent compared with those who drank less than one cup of coffee daily.
Previous studies suggest coffee cuts the risk of other cancers too, including those targeting the prostate and liver.
Researchers from the Missouri University have also claimed that the compound called apigenin - found in parsley, celery, apples, oranges and nuts - delays tumour formation.
Celebrity news, beauty, fashion advice, and fascinating features, delivered straight to your inbox!