Body image concerns more men than women
Increasing numbers of men are concerned about their size, shape and appearance compared to women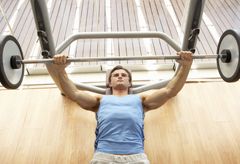 (Image credit: REX)
Increasing numbers of men are concerned about their size, shape and appearance compared to women
You may have thought women are the more anxious sex when it comes to appearance but new research suggests that over 80 per cent of men are concerned about physical flaws and imperfections.
Fears over beer bellies, man boobs and going bald led to 38 per cent of men saying they would sacrifice a year of their lives in exchange for a perfectly toned body.
The study of 394 British men, commissioned by Central YMCA and the Succeed Foundation, reveals that men's anxiety over their bodies causes many to resort to compulsive exercise, extreme dieting and laxatives in a bid to stay slim.
'We know that "body talk" affects womenand young people and now we know that it affects men too,' says study leader Dr Phillippa Diedrichs from the University of the West of England.
30 per cent of men reported comments on their beer belly, 19 per cent have been described as chubby, and 19 per cent have overheard talk about their man boobs.
'Historically, conversation about your body has been perceived as something women do, but it is clear from this research that men are also guilty of commenting on one another's bodies, and in many cases this is having a damaging effect,' says Central YMCA's chief executive, Rosi Prescott.
Respondents blamed the media and celebrities for reinforcing unrealistic ideals about physical perfection.
Alan White, a professor of men's health at Leeds Metropolitan University, says there has been a big increase in British men opting for cosmetic procedures, including nose jobs, and removal of breast tissue, over the past 10 years.
He says: 'All this fuels the idea of the body beautiful and encourages a quick fix rather than appropriate diet and physical fitness levels.'
Celebrity news, beauty, fashion advice, and fascinating features, delivered straight to your inbox!