Marie Claire is supported by its audience. When you purchase through links on our site, we may earn commission on some of the items you choose to buy.
Kate Bones reveals all
First off, what is a GIF, we hear some of you ask? Well, it stands for Graphics Interchange Format and is traditionally used to mean an animated image of some kind (sort of like a Boomerang but it doesn't play on loop).
Considering that GIFs are starting to become a tangible medium for us with phones like LG's G6 which has a GIF option on their camera, we got in touch with full-time GIF artist Kate Bones to ask her what it's like and how we can become creative GIF-geniuses, too.
Having worked with brands like Missguided, Baileys, Glastonbury's Block 9, The Grammys and Nike, Kate has built her professional career around animated images.
How does one go about becoming a gif artist?
I had been using tumblr as an image resource and I fell in love with all the different styles of GIFs exhibited. It then occurred to me that GIFs would be a great way to document gigs and festivals as well as a new medium for portraiture. That was my eureka moment! When I first started making GIFs, the only other people I knew working in the medium were all based in NYC. They were a real source of inspiration and kept me motivated as it was rather lonely. Getting early support from GIPHY was invaluable and really kick-started things for me.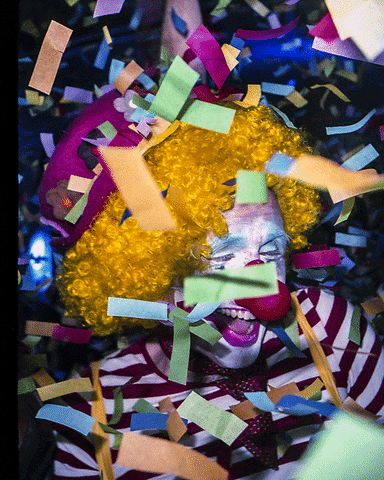 What did you do previously?
I studied Fine Art Sculpture at Wimbledon College of Art, where I specialised in Film and Video. After I graduated, I worked in the music business for a number of years but I yearned for something more creative so I quit. To fund my creative pursuits, I worked as a nanny by day and a DJ by night while I shot for music blogs and magazines to build up my portfolio and network. This time gave me the headspace to focus and to work on my own projects.
Do you have a creative process?
I'm primarily known for my 3D GIFs which are shot on film and animated using Photoshop so the final image is digital. I also make looped video GIFs which I then draw on frame by frame, which is a very old animation technique called rotoscoping. I love the combination of analogue and digital. I'm not a purist. We have super-fast computers and amazing software available, but also access to analogue techniques. Combining these makes my output unique.
How did you learn how to make GIFs?
Hard work, perseverance and obsession, ha! I didn't really learn how to make them. I applied what I already knew and developed it from there. I did enrol on several evening courses to improve my skill set by learning the ins and outs of certain software. There's always a way to bring your ideas to life.
What's been your favourite GIF you've ever created?
Oh, it has to be the series I shot for Missguided. Not only did I get to meet living legend and coolest granny on the planet Baddie Winkle, but they also showed my GIFs on huge screens in the entrance of their new store in Westfield, Stratford and that was definitely a career highlight.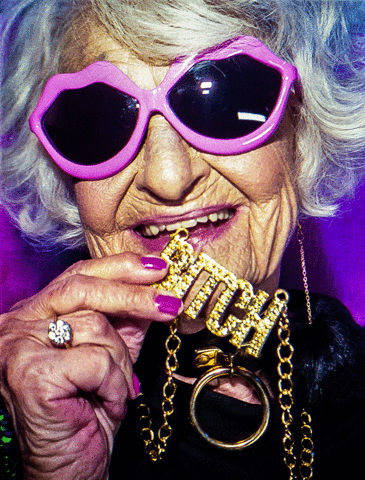 What do you need to be able to make a GIF?
An idea! Then all you need is a camera or a mobile handset with GIF creator capabilities.
How do you go from a basic GIF to an awesome GIF?
Attention to detail and a steady hand. And of course a good idea.
What GIF would you love to make?
I'd love to work with a musician, artist and a great team including an asset designer, make-up artist  and stylist to make a portrait series. I'm a real believer in collaboration. Adding another artistic dynamic into the mix is what pushes the boundaries and also my own capabilities as an artist.
What event has been the most fun to make GIFs at?
Block9's NYC Downlow at Glastonbury Festival. I'd first shot drag queens a few weeks before at a Sink the Pink ball. When the scans came out I let out a little scream. The colourful makeup and costumes were a perfect marriage with my 3D GIFs. I then knew I had to contact Block9. They really loved my work and invited me along to shoot at the downlow. It was an unforgettable weekend and I met a lot of amazing characters. My eyes were twitching for days after.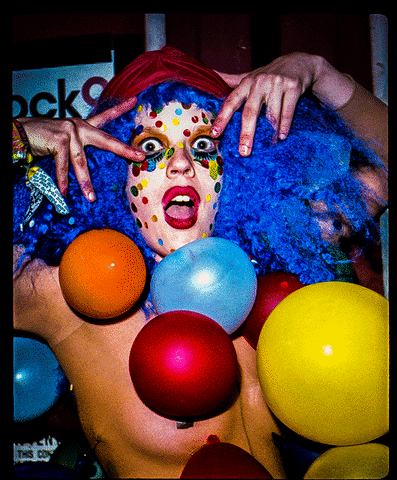 What's the best pose to do when starring in a GIF?
One where you can express yourself. You can't beat blowing a kiss to the camera or a kawaii finger pose. Make sure there's not much going on in the background as you don't want anything to distract from your performance.
What other cool thing should we be doing in GIFs?
They're a really fun way to communicate in messages and texts. I always accompany a birthday post with an amusing GIF or I'll send a GIF along with a text to express my mood.
What's the future for GIFs?
GIF is an old format going through a renaissance. What's happening now is unchartered territory, but I believe GIF is the perfect visual medium for social media. The potential of the GIF format as a viable medium for advertising, art, portraiture, documentation, etc is becoming more and more evident.
GIF artist Kate Bones worked with LG to mark the launch of the new LG G6. She can be found Tweeting @mskatebones and Instagramming on @katebones.