To celebrate Frieze London, Marie Claire hosted a discussion and dinner with Soho House to discuss women, representation and art
Here's what you need to know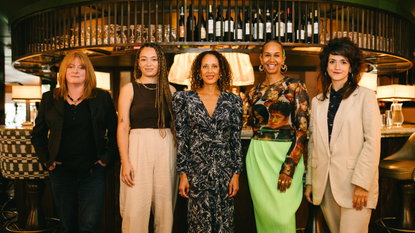 (Image credit: Feruza Afewerki-Abraha )
It has been a significant year for women in art so far with some major breakthroughs in recent months. There is a survey show for Sarah Lucas at Tate Britain; a solo show for artist Marina Abramovic in the main hall of The Royal Academy and Claudette Johnson will be honoured at the Courtauld. All worth celebrating. The Whitechapel gallery is also hosting a show for painter Nicole Eisenman and the Barbican and Tate Britain are staging all-female shows - RE:SISTERS and Women in Revolt!
However a closer look at the statistics reveals a slightly less positive outlook. Should we really be celebrating the fact that it's taken until 2023 for the Royal Academy to host its first solo show featuring a woman's work in its main space? It's a topic Marie Claire was keen to explore this week through a panel event with trailblazing artists where we talked women, art and representation.
"As with many creative industries in 2023, progress is slow, and there is still so much more work to do to make the art world more representative of the country we live in," Maire Claire UK's Editor-in-Chief Andrea Thompson told an audience at Little House Balham this week. "
The numbers speak for themselves. "Around 66% of art graduates are women and yet only 5% of galleries in London show an equal number of male and female artists, while art by women accounts for just 3% of current auction sales," Thompson added. "The international picture is equally bleak. Analysis in 2019 revealed that across 18 major U.S. art museums the collections are 87% male and 85% white."
In honour of Frieze Art Fair, Editor-in-Chief Andrea Thompson was leading the panel with women artists to discuss the impact of identity on their work. Tucked away behind Balham's high street and with an art collection featuring local artists, it was a fitting location to talk all things creativity. Soho House is doing great things behind the scenes to champion female artists and diversityin general through its extensive global collections exhibited across its members clubs.
The latest in the Soho House family, Little House Balham hosts an art collection showcasing both emerging and established local female artists. This includes a special commission by Miranda Forrester who individually painted the 30 striking panels that make up the ceiling.
Forrester was one of the four female panellists who joined Thompson to discuss identity, diversity and the role of motherhood on creativity.
Here's what we learned.
Art can be a vital way for marginalised groups to find their voice
London born artist Lakwena has exhibited her work worldwide at major galleries from London to New York. Her bold work is inspired by popular culture with strong messages of hope and possibility. Exploring the commonality between people and produces immersive panel paintings, iconic murals and installations that reflect societal dynamics. "I always want to be responding to what is happening in the world," she told the room. But it started as a coping mechanism.
"I started making work to cope with racism growing up. It was a way of processing what I was going through, very biographical and as a way to try to empower myself to speak strength. I didn't feel represented or affirmed," Lakwena said. However, as her career has progressed her work has been impacted. "I think as society has changed I have moved to a different place where I'm not daily faced with racism now so it's not as much of a focus. I feel like my work has evolved and changed because I now have different concerns and I'm a mother which impacts everything. Your work changes in relation to your identity."
Regardless, Lakwena still feels like the industry has a long ways to go. "There needs to be more diversity of voices. Not just diversity in terms of gender or race, but diversity in terms of diversity of thought."

Don't let anyone tell you that you can't be an artist
Annie Kevans has had solo exhibitions across the world and has had her work exhibited in the Royal Academy and the Saatchi Gallery. Interested in power, manipulation and the role of the individual in inherited belief systems, during the panel discussion, she spoke passionately about the discrimination mothers face in the industry as she encouraged young artists to believe they could continue to create incredible art after motherhood.
"When I was pregnant, I had a lot of people tell me that there was no way I was going to carry on. I had a lot of those comments from male artists too," Kevans confessed.
Kevans' 'History of Art' series features women who were once acclaimed in the art world but were overlooked and ultimately forgotten by history. She has worked hard through her career to acknowledge the role of women and under represented groups in art movements throughout history. "Maybe now, there are more women occupying these spaces as curators and writers things will change, but I remember someone approached me in the bathroom whilst I was showing at the Barbican, and said 'don't have another baby because we all thought your career was over after your first and you weren't painting anymore'. The only thing that you can do is show up and prove them wrong. Do the shows, do the exhibitions, keep doing what you love," Kevans added. "In the long-term, we need more women in positions of power and making decisions, more women curators, trustees, museum directors,"
Feminist art is finally being given the recognition it deserves
Sarah Maple is an award-winning multi-disciplinary artist known for bold artworks that challenge notions of identity. Her inspiration comes from her mixed religious and cultural upbringing (she was raised as Muslim). Her work has been displayed in many leading museums and galleries such as Tate Britain and explores themes of identity and motherhood.
"In 2010, I struggled to put on a feminist-inspired show. I tried to get people to sponsor it and not a single person would touch it. They just did not want to be associated with feminist work. But so much has changed, that kind of show now would create so much interest," Maple said.
Speaking about her early days as an artist, she says much of her work referenced the invisibility of Muslim women. "There was lots of negativity around Muslims post 9/11 and a lot of my work uses comedy to talk about what people feel being a Muslim is. I'm a very proud Muslim but because I don't wear traditional clothing I recognise that I've been accepted more. I wanted to talk about how important my religion was to me."
Through her practice, Maple also feels very passionate about the opportunities that could be presented to female artists through funding. "There should be more funding directed towards mothers, more support financially for childcare, as this would help women expand their practice," affirmed Maple.
"We also need new trustees on museum boards, more inclusion in art books, and better representation in commercial galleries," added Kevans.
Don't be afraid to ask for support
Although being a female artist is challenging, the panel discussion was overwhelming uplifting in tone with so many stories of change. Miranda Forrester's work explores the queer female gaze and the invisibility of black women in the Western history of art, and she has had her work exhibited at Frieze, the Saatchi Gallery and now Little House Balham. When she was commissioned with the job to paint thirty panels to be featured in the house, her partner's due date was fast approaching. Forrester was concerned that this would mean potentially giving up the project.
However, the Soho House team supported her throughout her first months of motherhood to work around the baby. In effect this meant, she could accept the commission instead of turning down the opportunity due to the pressures of juggling the work with motherhood.
"With the birth of my daughter fast approaching I was stressed. I felt like I couldn't do it as it was site specific, painted directly on the ceiling. However, I was supported by a team at Soho House lead by Kate Bryan who understood my situation and came up with an amazing alternative plan. I was extremely privileged to be in that position. I went for panels which the team had delivered to my house. I was then able to paint the panels at night whilst my baby was sleeping-or not sleeping- in the cot. It was a great way to keep creating while being close to my baby without a huge amount of pressure," says Forrester. "More women in decision-making positions of power like means more mothers can continue to work."
Forrester still believes the art industry at large can go further to support female artists however, "I think to make the art world more representative, we need more women working in all areas of the art world like behind the scenes, directing and in curation."
Lakwena, Annie Kevans, Miranda Forrester and Sarah Maple prove that the future is looking brighter for female artists. The hope is that the industry as a whole takes steps to support them in creating a more inclusive space for under represented artists in 2023 and beyond.
You can view their work across the Soho House collection.
Celebrity news, beauty, fashion advice, and fascinating features, delivered straight to your inbox!
Sofia Piza is the Producer and Writer at Marie Claire UK.
After living in five countries, Sofia finally decided to settle down in London- just a mere 5,000 miles away from her native Mexico.
These days, you can find Sofia helping in all things production and scavenging the internet for the latest TikTok trends. Sofia got her start in the fashion industry working in retail and PR before taking the leap into journalism and production- living her happiest and most authentic life.
With contributions from