Rosie Huntington-Whiteley: Her most stylish moments ever
Track the model-turned-actress's amazing fashion history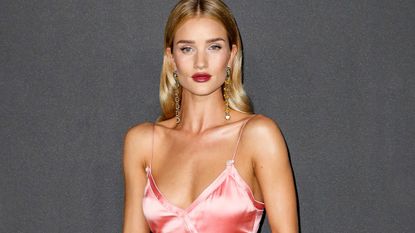 (Image credit: Rex)
Track the model-turned-actress's amazing fashion history
The sizzling model-turned-actress is probably best known for her work with lingerie emporium Victoria's Secret but Rosie Huntington-Whiteley has also modelled for Burberry and M&S as well as branching into acting with her role in Transformers: Dark of the Moon with Shia LaBeouf. Not to mention the many fashion advertising campaigns that she fronts.
Alongside all those incredible career moments, Rosie Huntington-Whiteley has firmly made her way into our celebrity wardrobe inspiration and become something of a style icon too.
Thanks to her incredible sartorial choices, Rosie has become one of our favourite celebrity style crushes, from the red carpet, to her off-duty dressing, we're all kinds of in love with RHW's wardrobe.
When it comes to super-cool brands, Rosie has her finger firmly on the pulse and is always spotted wearing a much coveted designer item. Whether it's show-stopping red carpet gowns, super-sexy cocktail dresses or a chic low-key off-duty look, Balmain is her go to label. As for accessories - Rosie Huntingtin-Whiteley is rarely seen without a fabulous Saint Laurent bag on her arm.
Rosie could also be hailed queen of supermodel off-duty dressing and never puts a foot wrong. Her latest thing is off-shoulder numbers, whether it's a statement top or gown - it's all about the clavicle for RHW.
In her spare time, Rosie is proving her chops as a budding entrepreneur and has a super cool celebrity side business. She's has a long standing relationship with LA denim brand PAIGE and has appeared in several campaigns. This time, Rosie steps into the studio to create a capsule collection. The range will include several new styles and lifestyles pieces. An initial sketch above shows, a bomber jacket that we can't wait to get our hands on. Out February 2017.
Click through to see some of her best style moments.
Rosie Huntington-Whiteley
Rosie Huntington-Whiteley wears Saint Laurent at a fashion party in London.
Rosie Huntington-Whiteley
Rosie Huntington-Whiteley at the LACMA Art + Film Gala in LA.
Rosie Huntington-Whiteley
First up, this ultra-chic H&M for Balmain look. Think the 80s trend is not a goer? Let this top-to-toe green number from RHW convince you otherwise.
Rosie Huntington-Whiteley
Only RHW could look this good post-workout, opting for some sleek black leggings, a printed sports bra and some standout trainers.

Rosie Huntington-Whiteley at the Burberry Body launch in LA
Rosie Huntington Whiteley
Rosie-Huntington-Whiteley style highs and lows
Rosie Huntington-Whiteley gallery
Rosie Huntington-Whiteley at Vertu Global Launch of The Constellation in Milan
Rosie-Huntington-Whiteley style highs and lows
Rosie-Huntington-Whiteley style highs and lows
Rosie-Huntington-Whiteley style highs and lows
Rosie-Huntington-Whiteley MTV Movie Awards 2011 Photos
Rosie Huntington-Whiteley
Rosie-Huntington-Whiteley style highs and lows
Rosie Huntington-Whiteley pics - Rosie Huntington-Whiteley style
Rosie-Huntington-Whiteley-The Serpentine Summer Party-Celebrity Photos-10 July 2009
Rosie Huntington-Whiteley
Rosie Huntington-Whiteley
Rosie Huntington-Whiteley
Rosie Huntington-Whiteley
Rosie-Huntington-Whiteley-Costume Institute gala 2010-Celebrity Photos 3 May 2010
Rosie Huntington Whiteley - Celebrity spy - 1 October - gallery
Rosie Huntington-Whiteley - Celebrity Photos - 4 June 2009
Rosie Huntington-Whiteley pics - Rosie Huntington-Whiteley style
Tyrone-Wood-and-Rosie-Huntington Whiteley-GQ Awards 2009-Celebrity Photos-9 September 2009
Rosie Huntington-Whiteley pics - Rosie Huntington-Whiteley style
Rosie Huntington-Whiteley pics - Rosie Huntington-Whiteley style
Rosie Huntington-Whiteley pics - Rosie Huntington-Whiteley style
Rosie-Huntington-Whiteley-V Festival 2009
Rosie Huntington Whiteley
Rosie Huntington Whiteley
Rosie Huntington-Whiteley
Rosie Huntington-Whiteley at the Love Ball
Rosie Huntington-Whiteley pics - Rosie Huntington-Whiteley style
Rosie-Huntington-Whiteley-and Tyrone Wood-Gucci Party-Celebrity Photos-01 March 2009
Rosie-Huntington-Whiteley-Gallery