A Day In The Beautiful Life Of Karl Lagerfeld
Choupette's beauty routine, lunchtime baths and bespoke health supplements, Karl Lagerfeld talks Marie Claire through his daily grooming routine - and it's so typically impeccable, so typically Karl.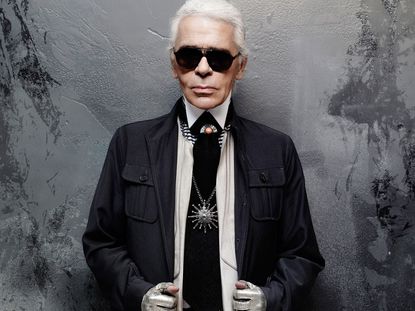 (Image credit: Rex Features)
Choupette's beauty routine, lunchtime baths and bespoke health supplements, Karl Lagerfeld talks Marie Claire through his daily grooming routine - and it's so typically impeccable, so typically Karl.
07.00 I sleep for seven hours every night, no matter what time I go to bed. I get into bad habits during the couture shows and sometimes read until 4 o'clock in the morning. I don't believe in taking sleeping pills.
07.30 I'm always in a bad mood in the morning, so the only thing I can do is improve it and try to make things better. I read the newspapers before breakfast but, depending on what's happening in the world, my mood can get worse.
08.00 For breakfast I have two protein shakes without milk and boiled fruit like pears or apples, which was recommended to me by my doctor. I'm not allowed to eat salt in the morning, but I can eat natural sugar. I haven't touched artificial sugar for 13 years - I lost weight and I don't want to get it back again. I feel seasick if I have it by mistake. Apparently, if I eat it for three days in a row I'll become addicted again.
08.30 Part of my morning routine is to take supplements specially made by my doctor - I keep them in a silver container from the 20s. I have an analysis every year to find out what vitamins I'm deficient in and what I should add.
09.00 After breakfast I get together with my famous cat, Choupette. We are planning a make-up line. It's top secret at the moment. Her grooming routine is a lot of work. She has two maids because she doesn't like to be alone. They do all the brushing – she's beyond spoilt and sleeps on the back of my bed.
09.15 The bed sheets, the towels - everything has to be changed every day. I'm always afraid of things not being impeccable. I have the biggest collection of French linen.
09.30 Wearing a long dress shirt as a nightshirt, I make a start on sketching the collections and write my letters. My floors are made from concrete and silicone - they're nice and warm, but I'm not crazy about bare feet so I wear bathroom slippers.
12.00 Before lunch I take my bath. I never shower because my hair gets curly and I hate curly hair. I also hate bubble bath – it's for people who don't wash properly, so I put French bath salts in the water, which soften my skin.
12.30 After my bath I apply Klorane dry shampoo to make my hair bright white. I have a special powder room with sliding doors and lit mirrors to do this in. If I didn't it would go all over the place and I'd have to clean every perfume bottle and everything else – no, no, no. I always wear a ponytail as I hate hair going in my face. I don't know how people can leave their hair down – I would be frantic within five minutes.
12.45 There is a fridge in my bathroom to keep my skincare in. I look after my skin. When I turned 24 my mother said, 'Now you're 24, it goes downhill.' I thought it was 27, but she said, 'No, 24.' I try a lot of creams because I get sent so many. Most of the time I use the ones from Chanel, Sisley, Creme de la Mer, Clinique and La Prairie, which are all very good. I change them all the time: you don't always eat the same thing, so why give your skin the same creams? I love a new product called Clean by Dr Pitanguy – he's a Brazilian doctor who treats all the famous people. I haven't had anything done. I have a healthy life – I don't drink alcohol, I don't smoke, I sleep enough, so I don't need to. I don't use sunscreen as I stopped going in the sun when I was 40, but I do protect my hands by wearing gloves.
13.00 I do my nails myself because I hate getting manicures. The last time I had one the manicurist did something and I slapped her face; it was a spontaneous reaction. And the last time I had a pedicure I got an infection, so I do it myself now, every Sunday.
13.15 I like the overuse of perfume. After my bath I spray an elegant fragrance, like Karl Lagerfeld for Men, onto my sheets, towels and whatever I plan to wear. I used to use scented candles, but a friend of mine had a problem with a cat – hair catches fire quickly.
13.30 Now I have lunch. I don't eat between meals – I'm beyond temptation. I'm like the animals that only touch the food that is good for them. I haven't eaten chocolate for 30 years. I like the smell, but I don't want to eat it. Perhaps my doctor hypnotised me.
14.30 I do most of my work after lunch. I work from home as I cannot sketch when I have 3,000 people around me; I like to be alone and listen to music. My latest discovery is Lorde. I only listen to music if Miss Choupette is awake. She loves Latin but hates opera.
17.00 I drink Diet Coke and Pepsi Max. I don't drink coffee, I don't drink tea. I drink a little water, but not much as it's not so tasty.
21.00 I work most nights until 9pm. I don't believe in having relaxing treatments like massages afterwards: stress is an invention and I'm too down to earth to suffer from that.
21.30 I prepare for bed with care, but I don't bathe – it wakes me up. My mother taught me one always has to be impeccably groomed.
22.00 I have the same bed in every house; the mattresses are made for me and changed every six months. Without sleep I am lost.
Celebrity news, beauty, fashion advice, and fascinating features, delivered straight to your inbox!
An award-winning health and beauty writer, stylist and creative director, Lisa Oxenham is one of the UK's top beauty editors and the Beauty and Style Director at Marie Claire UK. With 20 years of editorial experience Lisa is a brand partnership expert, and a popular speaker, panelist and interviewer on a range of topics from sustainability to the future of beauty in the digital world. She recently spoke at Cognition X and Beauty Tech Live and is on the Advisory Board for the British Beauty Council's Sustainable Beauty Coalition.
A well-respected creative director she works on celebrity, model and influencer shoots with the highest calibre of photographers, filmmakers, make-up artists and hairstylists to create timeless images, attention-grabbing videos, digital events and masterclasses. Most recently Lisa has directed covers such as Lily Cole and Jameela Jamil, films such as Save The Arts featuring Francesca Hayward and sustainable fashion shoots such as Be The Change. Supporting the beauty industry over the pandemic has been a top focus, directing the British Beauty Council's six inspirational short biographical films for their Bring Back Beauty campaign.
Lisa is a wellbeing and beauty influencer with a focus on mental health and a large and engaged audience on Instagram, Facebook and Twitter.