Scandal: A Beginner's Guide To Olivia Pope And Her Gladiators
As it's confirmed Lena Dunham is to guest star in Scandal, we present our cheat's guide to the Washington-based political drama. Warning: this does contain spoilers.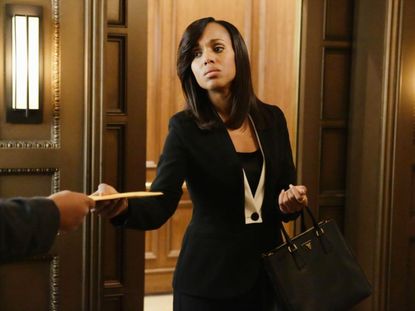 (Image credit: ABC)
As it's confirmed Lena Dunham is to guest star in Scandal, we present our cheat's guide to the Washington-based political drama. Warning: this does contain spoilers.
'Scandal? What's Scandal?' We hear you cry. To the uninitiated among you, it's an ever-twisting, ever-turning, slightly bonkers, political drama set in Washington. Written by Shonda Rhimes (she also wrote the highly addictive Grey's Anatomy), it's huge in the US and is already in its fourth season.
If you're not already hooked we suggest you get involved and, to help you get up to speed, we've produced the below cheat sheet. Warning: this does contain spoilers.
Olivia Pope
The show is centred around one powerhouse woman, Olivia Pope. Played by the flawless Kerry Washington, Olivia Pope is a White House staffer-turned-fixer. A fixer? What's that? Well, Pope runs a crisis management company that will fix anything from rigging elections to making career-ending sex tapes disappear. 'It's handled,' isn't her catchphrase for nothing, you know.
The gladiators
Olivia Pope doesn't refer to her team as staff. No, how dull would that be? They are her 'gladiators in suits'. She's saved each and every one of them from a tricky situation of their own and they are fiercely loyal to Miss Pope, to the point of being brainwashed. 'Once a gladiator, always a gladiator,' as they say. And they really do say that. Quite often. As well as something about putting their 'white hats' on... you'll see what we mean. The gladiators consist of Huck (tech genius who likes torturing people), Quinn (who is somewhat of a mini-Huck) and Abbey Whelan (now works as Press Secretary for the White House, where they patronisingly refer to her as red).
President Fitzgerald Grant
Fitz is the President of the United States and Olivia's on-off lover. Their relationship is intense with passion on top of passion. He says things like this: 'You own me. You control me. I belong to you. I love you. I'm in love with you. You're the love of my life. My every feeling is controlled by the look on your face. I can't breathe without you. I can't sleep without you. I wait for you, I watch for you. I exist for you.' See, we told you: intense. Sounds great, if a little obsessed, doesn't he? Well, there's just one major fly in the ointment: he's married to Mellie.
Mellie
Mellie, the calculating, manipulative and long-suffering First Lady, would, without a doubt, make a better president than Fitz. Mainly because he can't keep his hands off Olivia Pope enough to make any decisions.
Jake Ballard
This guy will probably look familiar. At least to your teenage self. Scott Foley, the chap who plays Jake, was in Dawson's Creek and Sweet Valley High. Now playing former navy officer and Olivia's other on-off lover, Jake. If we're honest, we enjoy his scenes most when he's got his shirt off or talking filth to Olivia. Otherwise, he's kind of irritating.
B613
This covert government organisation is at the heart of the show. And it's run by Command, AKA Olivia's dad, Eli Pope, who just happens to be pure evil. The organisation answers to no one and is so powerful even the President can't control it. They're a pretty grim bunch specialising in torture, killing and fake assassinations made to look like suicides.
Music
The soundtrack to the show is one of the best parts about it. It's all soul and funk with key moments in the narrative being made all the more emotive with a soundtrack by the likes of Otis Redding, Marvin Gaye and Stevie Wonder. The woman responsible, music supervisor Alexandra Patsavas, is the best in the business, having also worked on Grey's Anatomy, Gossip Girl, Mad Men, and The OC.
Olivia Pope's wardrobe
In one word, it's: wonderful. In muted, soft colours - normally white - Olivia rocks fierce-yet-feminine silhouttes by the likes of Armani, Dior, Ralph Lauren and Valentino. The stand-out piece so far? A Ferragamo coat complete with cape and three-quarter length sleeves, as well as Olivia's Prada purse, which has even had an entire storyline dedicated to it. Scandal's costume designer, Lyn Paolo, has cited the likes of Lauren Hutton and Katharine Hepburn as influences for Olivia's style.
Red wine
It's almost impossible to make it through an episode of Scandal without having a glass of wine - and not just because of the break-neck pace of the show. It's because Olivia Pope can't get through an episode without drinking a glass of wine. But she only drinks posh plonk, natch. Her favourite being a Shiraz, but she's also partial to a 'Bordeaux that'll bring tears to your eyes.' Aren't we all?
Monologues
Scandal has become famous for its soaring, almost operatic, monologues. Monologues so intense they leave you feeling breathless. The best being from Eli Pope, Chief of White House Staff Cyrus Beene and First Lady Melle.
Scandal is on Sky Living, Thursdays at 10pm.
Celebrity news, beauty, fashion advice, and fascinating features, delivered straight to your inbox!