Happy 70th birthday Diane von Furstenberg: A retrospective of the wrap dress queen
Every jersey wrap dress in your wardrobe holds a debt to Diane von Furstenberg: pioneer, entrepreneur and champion of women's rights.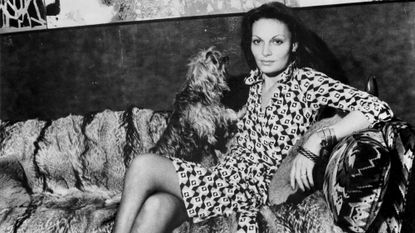 Every jersey wrap dress in your wardrobe holds a debt to Diane von Furstenberg: pioneer, entrepreneur and champion of women's rights.
Words by Victoria Moss
Andy Warhol painted her, Warren Beatty took her to bed. She married and divorced a prince (Egon von Furstenberg of Germany), launching her fashion label in 1970 as a statement against those who assumed her marriage meant she didn't have to support herself. Legendary Vogue editor Diane Vreeland told her to show at New York Fashion Week, and, within two years, she'd sold five million of her wrap dresses. After a hiatus in the 80s, she relaunched her brand in 1977. In 2001, she married her on-off boyfriend of 26 years, Barry Diller, a media giant who helped set up Fox. Recently Forbes rated Diane von Furstenberg as the most important woman in the fashion industry, over Anna Wintour and Miuccia Prada. Today she is worth more than $1 billion.
This year, von Furstenberg celebrates her 70th birthday and to mark the occasion, we look back at her most iconic creation: the wrap dress.
Inspired by a ballerina's cardigan, it was designed with the 70s liberated woman in mind (what was the dress Amy Adams powered her way through American Hustle in? A DVF wrap). Not only is the wrap dress still relevant but it also sits as an artifact in the Smithsonian museum and The Metropolitan Museum of Art in New York.
Marie Claire UK sat down with DVF herself in 2014 to mark the 40th anniversary of the little jersey dress that started it all. Here is her interview:
It's freezing outside, and we're in the hub of New York's Meatpacking district in the HQ of Diane von Furstenberg's empire. Her store is at street level, the showroom and design teams are above, and her own apartment is in the penthouse. Half working space, half home, the lift opens out into office desks manned by efficient-looking woman dashing about you in (you guessed it) printed wrap dresses. Behind this is her personal space, although it seems her life and work are merged. We sit in an extraordinary room, packed with beautiful modern art (including many pictures of the designer – though not the Warhols), family photos and a Dali pink lips sofa. The furniture and every side and space is a riot of bold print and colour. It's fabulous. DVF enters, and she purrs glamour. She wears a pair of gold-rimmed aviator sunglasses (which she keeps on), a green leopard-print shirt dress over flesh-coloured fishnets and heels. Her make-up is minimal, and her life is reassuringly etched on her face (she doesn't believe in surgery or Botox). Her 40th- anniversary show was two days ago, and she is still recovering. Aside from the collection, she's been finishing off her second autobiography – 'it's more essays, really' – which she explains is where we can get the full story of her life. For now, here is a taster of wisdom from the living icon that is Diane von Furstenberg.
You're celebrating 40 years of the wrap dress. Why was it important for you to mark this?
I've never respected the body of my work in the way it should be. The wrap dress is something I've always taken for granted. Considering that it paid all my bills, I wanted to honour it for the first time. It was incredible to see the exhibition. I don't think I've ever been as proud of something – except having my children.
Why did that dress live so long?
Because you see pictures of the very first one and it's still so relevant today.
At what point did you realize the dress had become important?
I lived an American dream. I sold millions of them before I was 30, then I sold the company. I started again with the wrap dress 15 years ago. Yesterday, I was talking to Anne Hathaway at (New York) Lincoln Center For The Performing Arts and her mother came over and said, 'I'm going to tell you something that she (Anne) doesn't know. I seduced Anne's father in a wrap dress.' Everywhere I go, people have these stories.
The dress is often referred to in the same sentence as sex. When it launched, you said it could be taken off very easily and quietly…
Well, there's something about that dress… When you wear it, it's all about body language – sexy without being obnoxious. Recently, a woman who was from the South and about my age, told me, 'I was so happy when I discovered that dress, because I finally found a way to be sexy during the day.'
Who is the woman who buys your clothes?
She's confident; she's who she wants to be. I'm the friend in the closet. When you get up, your eyes are swollen, you have your period, just go for it.
What was it like to be painted by Andy Warhol?
When these people are your friends, you don't know how big they will become. He was a voyeur.
Did you get tired of people asking you about him?
I mean, the worst is to repeat the same thing, over and over. I'm so tired of the subject. I will very happy to talk to you about anything as long as I don't have to talk about myself.
What do you think about technology in fashion?
I am happy that I'm old enough to have danced in Studio 54, and young enough to have been part of the digital age.
How do you think it's changed things?
Nothing is the same anymore. You don't need films, you don't need a dictionary, you don't need an atlas… you don't need anything. All you need is an iPhone.
Do you think that's a good thing?
It's not to say it's a good thing or a bad thing, you have to deal with it. But social media is fascinating – I follow where my granddaughter is, where my son is. It's just a completely different way of communicating. I'm totally addicted to it.
What would you say to someone who thinks fashion is anti-women?
Well, it depends. I don't like women to be objectified, unless they want it and then it's a choice. It's really up to the woman.
What about if women look at a fashion show and can't identify with the models on the catwalk?
So, they don't buy their clothes.
What were you like growing up?
I was a serious little girl, who wanted very much to escape from Belgium. (She was born Diane Halfin in Brussels, 18 months after her Greek-born Jewish mother was liberated from Auschwitz. At 13, she was sent to boarding school in Switzerland, then to school in England aged 15.)
Your brother still lives there. What's it like when you go back?
Oh, I love it. Now they love me. I'm a big star now. Over the years, I've built up a body of work. I have a past, a legacy. I'm really involved in my work. This is a good time for me creatively, because I have lots of energy again. For a while, I kind of lost it a little bit – I want off-band.
You've always talked a lot about empowering women. How important is the current new wave of feminism to you?
Extremely important. I think all women are strong, but sometimes the strength is very hidden. Maybe (because of) a husband, a father, themselves, whatever. Then comes adversity and, all of a sudden, the strength comes out.
How can a woman practically do that if they're having a hard time?
Nobody can do it for you. Only you have the key. You have to have a relationship with yourself.
If a woman is feeling vulnerable and like she can't be a success, what's your advice?
Well, if she wants to do it, she's got to go for it. That's it. I say to my granddaughters, you should say thank you for all the things you have, and then you should think about the woman you want to be. When you know, you think about it. Clarify it, go seriously about it and you do your thing.
So it's about having clarity over who you are...
Yes. You can't fake clarity. For years, I wasn't that clear, and it was very painful. But one day, it was like the fog had lifted and all of a sudden everything was clear.
Celebrity news, beauty, fashion advice, and fascinating features, delivered straight to your inbox!
The leading destination for fashion, beauty, shopping and finger-on-the-pulse views on the latest issues. Marie Claire's travel content helps you delight in discovering new destinations around the globe, offering a unique – and sometimes unchartered – travel experience. From new hotel openings to the destinations tipped to take over our travel calendars, this iconic name has it covered.