9 Moments That Put Ellie Goulding On The Map
How did the singer from a small town in Herefordshire become one of the biggest performing artists in the world?Ellie, we salute you.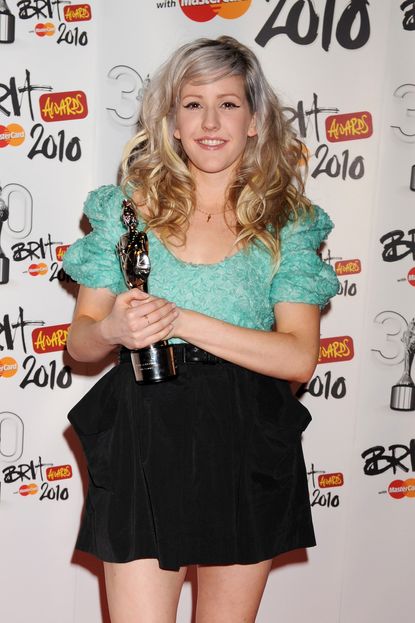 How did the singer from a small town in Herefordshire become one of the biggest performing artists in the world?Ellie, we salute you.
1. Her instant winning streak
Before she'd even released her first album, Ellie won the prestigious BBC Sound of 2010 poll, which showcases the music industry's top rising stars of the coming year. She then went on to win the Critics' Choice Award at the 2010 BRIT Awards, becoming only the second artist in music history to win both awards in the same year. What a start.
2. Her chart success
Her debut album, "Lights", when straight in at number one on the UK charts when it was released in March 2010. A string of hits followed and, this August, Ellie scored her first UK number one with "Burn". Her pal Rita Ora surprised her with the good news at the V Festival in Chelmsford.
3. The John Lewis advert
When Ellie covered Elton John's "Your Song" for the John Lewis 2010 Christmas advert, the track became an overnight sensation, turning her into a household name. It's her second highest-charting single to date, after reaching number 2 on the UK charts.
4. The Royal wedding
Ellie was given the humungous honour of singing live for Prince William and Kate Middleton at their wedding reception in April 2011. And they even had their first dance to "Your Song". Lucky Ellie originally met Wills after being introduced to him by pal Tinie Tempah at Radio 1's Big Weekend in 2010.
5. Her Rollercoaster Love Life
Ellie hasn't been out of the papers since she rose to fame, partly because of a string of high-profile relationships. First up was goofball radio DJ Greg James, who she split with in early 2012 after 18 months. Next, she had an 8-month relationship with DJ Skrillex, before rapidly moving on to War Horse actor Jeremy Irvine. But, by summer 2013, she was hooking up with ginger singer Ed Sheeran. And THEN she had a 27-day fling with One Direction cutie Niall Horan. Where does she get the time!?
6. Performing at Chime For Change
Ellie proved she could hold her own with the biggest names in showbiz in June when she shared a stage with the likes of Beyonce and Jennifer Lopez at the Chime For Change concert at London's Twickenham Stadium, all in aid of female empowerment.
7. Her soundtrack success
Ellie's songs have been chosen to feature in some of the biggest movie franchises of the 21st century. Her track "Bittersweet" was in The Twilight Saga: Breaking Dawn - Part 2; and her song "Mirror" is on the Hunger Games: Catching Fire soundtrack.Talk about high-profile...
8. Her Children In Need Single
This year, Ellie has put her popularity to good cause by teaming up with Children In Need on its 2013 official single. "How Long Will I Love You?" went straight in at number 3. We love a girl who gives back.
9. Her American dream
Ellie made it big over the pond when her first single, "Lights", reached number 2 on the Billboard Hot 100 nearly a year and a half after it was first released in the US - talk about a slow burner. Her second album was also a Top 10 hit in the American charts, and now she's even been sampled by the amazing Drake and Jay Z on their track "Pound Cake". Lucky girl.
Celebrity news, beauty, fashion advice, and fascinating features, delivered straight to your inbox!