Elisabeth Moss: 'Start telling women they can't speak, you wind up in a fucking red dress'
The Handmaid's Tale was the most timely drama series of 2017. Now it's back for a second season, and its inimitable star Elisabeth Moss tells Jane Mulkerrins why the conversation around gender inequality and sexual abuse is set to get louder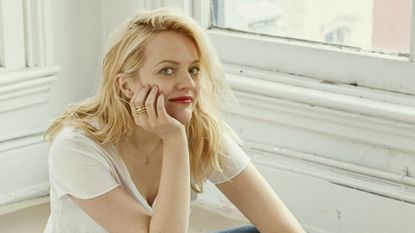 (Image credit: Marie Claire UK / Camilla Armbrust)
The Handmaid's Tale was the most timely drama series of 2017. Now it's back for a second season, and its inimitable star Elisabeth Moss tells Jane Mulkerrins why the conversation around gender inequality and sexual abuse is set to get louder
'I've always considered myself a feminist. But, like a lot of women of my generation, I didn't think we had to fight for it. I thought it was all done. I took so much for granted.' Elisabeth Moss shakes her head, in regret at her – at all of our – folly. 'We've had to take ownership of feminism in a way that we didn't know we'd have to, and that's changed me.'
It's Saturday evening in a subterranean wine bar in Manhattan, and this is the same conversation I've been having with friends and colleagues on an almost daily basis since the 2016 election of Donald Trump, and, subsequently, the downfall of Harvey Weinstein and the rise of the #MeToo movement.
The only difference tonight is that, thanks to her role in the TV adaptation of The Handmaid's Tale, the woman I'm discussing it with has become a symbol for the new resistance. As Offred, the protagonist of Margaret Atwood's seminal feminist story, Moss plays a sexual slave in Gilead, a dystopian world in which women are not permitted to read or write, and in which their fertility – the ultimate currency – has been hijacked and commodified by a far-right, fundamentalist ruling elite.
'I've never told a story that so closely paralleled life as it was happening around me, especially life as a 35-year-old woman in America,' she says. 'So the lines have gotten much more blurry than with any other role I've ever done. But it's also really cathartic to take some of the anger and frustration that I feel as a citizen, and be able to tell a story that I believe in.'
Moss was, until last year, best known as Mad Men's Peggy Olson, herself an unwitting feminist icon, who smashed through the misogyny and glass ceilings of the 60s advertising industry. We've met multiple times now, first for successive seasons of Mad Men, then her role in Ben Wheatley's 2015 film High-Rise, and, last spring, for the explosive launch of The Handmaid's Tale. In other interviews, with other actors, it might be tricky to find something new to talk about. Not this year, not with Elisabeth Moss (or Lizzie, as she is known to all).
Arriving casually dressed, all in black with a cap and rucksack, she hugs me and apologises for her exhaustion. She flew in this morning from Toronto, where the show is filmed, and has spent all day at a photo shoot. Tomorrow, she'll be at Marie Claire's shoot before getting straight back on a plane to return to Toronto. On Monday morning, she'll begin filming the season finale. She's hungry, and she is 'definitely getting a drink'.
It's impossible to overstate the impact of The Handmaid's Tale in Trump's America, where freedoms for women, immigrants and transgender people, among others, are being radically curtailed. The uniform of the handmaids – blood-red capes and white bonnets – has even been co-opted by protesters at state senate houses across the US, where legislators have attempted to defund organisations such as Planned Parenthood (for whom Moss is a long-time advocate), which support reproductive rights. When she won the Golden Globe award for Best Actress in January, she dedicated it to the women of the #MeToo movement.
'I have been fortunate not to have experienced some of the terrible things that so many women have talked about,' she says. 'But, when #MeToo and #Time'sUp really hit, I would talk to my girlfriends, and we all stepped back and looked at every encounter we'd ever had, and went, wait… was that OK? We've been conditioned to think it's OK, and that's the wake-up moment that we are having.'
One of the many high-profile men standing accused of sexual harassment is Moss's former boss, Matthew Weiner, the creator of Mad Men. Kater Gordon, a former writer on the show, alleges that one night when they were working late, Weiner told her that she 'owed it to him' to let him see her naked – an allegation Weiner strongly denies.
Moss is far too diplomatic to publicly take sides, but she believes that, 'unequivocally, women have to be allowed to have a voice.' She continues: 'Women need to be able to speak out if they are uncomfortable, or something happened in the past that they were not comfortable with. And the minute we start telling them that they can't, you wind up in a fucking red dress, with a fucking white cap on.'
She is equally firm about freedom of speech when it comes to attacks on her, too. Raised as a scientologist, Moss was accused by some of hypocrisy in her Golden Globes speech, as the religion – pretty much the only subject that Moss ever declines to discuss – has been accused of covering up sexual abuse.
'You cannot take away a person's right to speak, and to have a voice,' she says, firmly, when I raise the matter. 'I'm not going to tell you that you can't say what you think. Because if I do, then am I not a hypocrite?' She scoops up a chunk of burrata and pauses. 'I fundamentally believe in freedom and human rights. And, if I was not thick-skinned enough to handle criticism, I would not have been in this business for 29 years.'
A few weeks before we meet in New York, I visited the set of The Handmaid's Tale, (amid jokes from friends about whether I'll make it back with both my eyes). Much of the action is filmed in a vast studio space outside Toronto, which houses Offred's austere cell-like room, and the Commander's study, with its now-iconic Scrabble set.
On the day I visit, Moss is filming outdoors, in front of the real, bricks-and-mortar Waterford house, with Serena Joy, the Commander's wife (Yvonne Strahovski) and Nick, the 'eye'/driver/lover (Max Minghella). It's February, and well below zero, but Moss, in spite of nursing a cold, is cheerful as the crew films take after take after take. More than cheerful, in fact – when the three actors run through the scene, they banter hilariously, replacing the show's dialogue with their own feelings about the interaction.
'Weird' is used a lot. As is a liberal amount of swearing. For a show with such dark, brutal themes, the atmosphere is surprisingly light. 'Oh yes,' grins Moss, when I find her during a break, 'it's not serious… could you hear Max and I singing Taylor Swift songs?'
That's not to say, however, that Moss, who is also producer on the show, doesn't command authority or respect. Everyone I speak to in the cast and crew mentions the example she sets, with her dedication and commitment. 'Producing is a shitload more work,' she tells me, back in New York. 'It's round the clock. If I'm not acting, I'm watching cuts and making phone calls. But it's so much more fulfilling as well. And I love it, I really do.'
As soon as Moss wraps filming on The Handmaid's Tale, she'll go straight into production on two films back-to-back. First up is Her Smell, written and directed by Alex Ross Perry, with whom she has worked twice before. In a cast that includes Agyness Deyn and Cara Delevingne, Moss plays Becky Something, the lead singer of a successful all-girl punk rock band, 'as if Nirvana were all women'. Moss is practising the acoustic and electric guitar, 'madly, every day'. She presents the tips of her fingers for examination. 'I'm proud of these callouses,' she beams.
Then she'll star alongside Tiffany Haddish and Melissa McCarthy in The Kitchen, a comedic tale of Irish mob wives in 70s Hell's Kitchen, written and directed by Andrea Berloff, who co-wrote hip-hop biopic Straight Outta Compton. Aside from being a dramatic departure in tone from the bleakness and brutality of her current TV gig, both will be filmed in New York, and Moss is over the moon. 'I'm going to be in my apartment,' she whoops. 'I might buy a rug! Do you understand? I might actually buy a rug. And be there when it's delivered.'
A bohemian upbringing probably prepared her better than most for the nomadic life she now leads. Born and raised in Los Angeles, Moss's parents were both musicians – her father, Ron, originally from Birmingham, played the trombone in jazz bands, while her mother, Linda, played blues harmonica. 'We were always travelling, it was a very unusual upbringing,' she says. 'Everyone was always up late, and slept late. We'd go out to dinner. It was a great upbringing.'
Her parents split up, 'some time between me being 15 and 30. It's complicated,' she shrugs. Her father now lives in Florida, her younger brother, Derek, in LA, where he is a writer and editor, while her mother is in New York. On the rare times Moss is home, they have dinner together twice a week, and it was Linda who she took to the Golden Globes this year.
Motherhood is, Moss reveals, an important theme of the second season of The Handmaid's Tale. Offred is pregnant, 'but she is having a baby, potentially, in this world that she may not want to bring it into,' says Moss. 'And if she does have it, the baby gets taken away from her.' Does she see children on the horizon in her own life? 'I do want to be a mother,' she says, thoughtfully. 'I like the idea of passing on what my mother passed on to me. It's not for everybody, and I didn't know if it was going to be for me, but lately, I think it is.' She throws her hands up. 'I have no idea how I want to do it though or what the plan is.'
She freely admits she has no time for dating. 'It's actually a problem,' she sighs. 'But I'm very focused on my work… so it's difficult to find the time to give yourself to somebody.' In what must seem like another lifetime ago, Moss was married, at 27, to actor and comedian Fred Armisen, but it lasted less than a year.
'I have nothing against getting married again, but what I value even more now is the relationship itself,' she says, jabbing her fork in the air to emphasise her point. 'It's been eight years. I'm older, and hopefully wiser. I'm a romantic, so I love weddings, but I also don't think you need [a wedding] to have a long-lasting, healthy relationship. Some of the relationships I know that have lasted the longest are the ones that didn't [get married].'
Running late for a dinner date, Moss starts readying to leave and admits that, in all honesty, she'd really rather just go home and crash out. The next day, she posts an Instagram shot of her on a sofa, having her toenails painted while she plays the guitar. 'When you're at a photo shoot, apparently need a pedicure, shooting The Handmaid's Tale, and also prepping for a movie,' the caption reads, '#multitasking'. She couldn't look happier.
The Handmaid's Tale Season Two airs on Channel 4 this month
The June issue of Marie Claire is on sale now
Celebrity news, beauty, fashion advice, and fascinating features, delivered straight to your inbox!
The leading destination for fashion, beauty, shopping and finger-on-the-pulse views on the latest issues. Marie Claire's travel content helps you delight in discovering new destinations around the globe, offering a unique – and sometimes unchartered – travel experience. From new hotel openings to the destinations tipped to take over our travel calendars, this iconic name has it covered.