How The Handmaid's Tale kickstarted a feminist movement
'In places where you're not allowed to speak, like in the galleries of our State legislative houses, you can say so much just by wearing that robe.'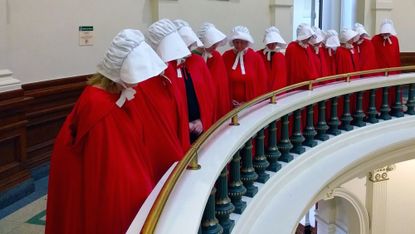 'In places where you're not allowed to speak, like in the galleries of our State legislative houses, you can say so much just by wearing that robe.'
Words by Kat Lister
On a sun-dappled Monday in March, a dozen women walk into the Texas State Capitol in downtown Austin; their red robes fluttering as they silently make their way into the Senate chambers where 31 Senators (23 of whom are men) are debating women's reproductive autonomy.
When this orderly line of white bonnets enters the gallery one by one, each head remains bowed. There is no need for banners or slogans, and not a single word is uttered. In Texas, crimson robes now do the talking – a visceral roar of resistance.
This isn't a scene from the hit HULU TV show The Handmaid's Tale, and it's not a chapter from the dystopian book that inspired it. This is 2017 in President Donald J. Trump's America. And these are the Texas Handmaids: a group of women who, faced with a relentless rollback of abortion rights in their state, have recognised the alarming relevancy of the cult 1985 novel and thrust its arresting imagery into contemporary politics.
You may ask what a sci-fi tale exploring the subjugation of women has to do with an anti-abortion bill in southern America's largest state. It's been over thirty years since Margaret Atwood's landmark novel introduced readers to the Republic of Gilead - a terrifying authoritarian regime in a distant America that, under the guise of plummeting fertility rates, enslaves women and ritualises rape.
For many reading or watching The Handmaid's Tale this year, the similarities between Gilead and America feel alarmingly stark. A piece in Vanity Fair magazine even posed the question: Is The Handmaid's Tale the allegory of the Trump era? The proof is in commerce: since Trump's inauguration in January sales of the novel have risen by a whopping 200 percent.
In a world where women's bodies are being legislated against without their consultation, handmaids have (reluctantly) become relevant again – and they're inspiring a global protest movement. What began in Texas earlier this year has spread to Florida, Oregon, Ohio and New Hampshire; and thousands of miles beyond in Ireland and Poland, where a near-total ban on abortion endangers unquantifiable numbers of women's lives on a daily basis.
In Texas, a state the size of France, Christian conservatism has been stifling reproductive rights for decades. 97 percent of its counties have no abortion clinic; and although some 13,286 people were killed in the US by firearms in 2015, it's easier to purchase a gun than terminate a pregnancy within its borders.
As it stands, Texas outlaws all abortion after 20 weeks unless the life of the mother is at risk or the pregnancy is a result of rape or incest. Before those 20 weeks, a woman must contort herself in order to be granted legal agency over her body – from mandatory counselling, to enforced waiting periods (Texas requires a woman to wait at least 24 hours between her counselling and her procedure.)
This year, an intensified crackdown is dragging women's rights further backwards. Despite Texas having the highest maternal mortality rate in the developed world, new measures - signed into law in July - seek to prohibit the safest method of second trimester abortion. On 20th July, Planned Parenthood and the Centre for Reproductive Rights filed a lawsuit challenging a ban on D&E procedures (dilation and evacuation.)
Last week, a federal judge in Austin granted a temporary restraining order against the new law. The next hearing will take place later this month. This is just one clause within a sweeping Senate Bill which proposes a suite of anti-choice restrictions – including mandatory burials or cremations of embryonic and foetal tissue.
'This is yet another attempt by politicians to ban abortion step by step and method by method, regardless of how many women they hurt,' says Dr. Raegan McDonald-Mosley, chief medical officer at Planned Parenthood Federation of America.
For women like Stephanie Martin, enough is enough.
'We're living in an unreality here,' the 40-year-old Texas Handmaids organiser and high school teacher tells me from her home near Austin. Stephanie is just one protest member out of a 300-strong private Facebook group who's ready to fight this reproductive crackdown from within State Capitol walls.
'In places where you're not allowed to speak, like in the galleries of our State legislative houses, you can say so much just by wearing that robe,' she says. 'When you see a character out of this nightmare dystopian world plopped into the context of real life, it's jarring. People take notice.'
Stephanie joined the Texas Handmaids earlier this year after she spotted a Facebook callout for costume seamstresses. The protest group was initially set up after the National Abortion Rights Action League's (NARAL) executive director spotted a bunch of Handmaids promoting the HULU drama at Austin's SXSW Festival earlier this year. Her Facebook post, suggesting that the Handmaids' iconic red cloaks and white bonnets were a perfect prop for protest, was met with widespread enthusiasm.
According to Stephanie, it went along the lines of, 'That's a great idea! We should totally dress up as handmaids and go sit in the Senate gallery trying to creep out these asshole Senators.'
Armed with her sewing machine, Stephanie began to take charge of the handmaids' distinct uniform.
'We had many sewing parties - they're great. Resistance sewing!' she laughs.
Over the months they've created about 38 robes to use in the protests. Each cloak takes several hours to make, demanding over four metres of material – and costing around $20.
'Sewing five yards of fabric takes a LOT of thread,' she jokes. Thankfully, Stephanie quickly found an online bulk supplier and has even recommended them to the Houston Handmaids.
'The Texas Handmaids now includes some independent city groups who collaborate with us on protests at the capitol,' she explains. 'The Houston activists protested with us during the legislative sessions and, now that they have a few capes of their own, they're doing actions in Houston.'
Since joining the Texas Handmaids, Stephanie has made countless friends, including multiple members in their sixties. 'Let me tell you, older women are the best activists!' she says. The rules are pretty flexible she tells me: there are no membership requirements. So far their robes have been borrowed and used in Houston, Dallas, Austin, and Corpus Christi.
'It's really cool. Here I am hanging out with college students, retired women, mommies and professionals; and we're making big, grown men a little nervous.'
How does it feel when she puts on her cloak?
'You feel like such a badass!' she answers. 'It almost feels like a Wonder Woman cape or something. When men walk by you can see them looking through the sides of their eyes at you. Everyone is curious - but they're too scared to ask.'
There's power in the costume's symbolism – these scarlet cloaks demand attention.
'In spaces where you have no voice, they can't help but look up in the Gallery when 30 of you march in, capes fluttering,' Stephanie says. 'In the show, it's tantamount to wearing shackles - you're marked as property. But when you're walking into an overwhelmingly white, male space, you're physically made larger when you wear these capes. As you walk, they move and billow out. It's an enveloping motion and you get such a charge of: yes, I'm resisting.'
On 11th May, a leaked document submitted to The Guardian revealed that Texas was seeking 'unprecedented' federal money to defund Planned Parenthood.
'Where do low income women go to get prenatal care?' asks Stephanie. 'Where do they go to choose to terminate a pregnancy?'
She tells me it's now illegal for private insurers to cover abortion care, so women now have to pay between $500 and $2,000 in cash. 'You have to make three appointments,' she explains.
During the first consultation, Stephanie tells me that the doctor must show the foetus using an ultrasound and provide the patient with something called 'A Woman's Right to Know'. When I ask what this is, she describes it as 'a medically inaccurate pamphlet authored by a pro-life group that falsely claims abortion is linked to cancer, infertility, addiction, depression, and death.'
For women like Stephanie, fact has become scarier than fiction in 2017. It's time to act.
'We're living in an unreality here,' she says. 'Every day I wake up and go, holy shit, really? Donald Trump is our President? The gross man in the TV? It seems like anything is possible now - look at Charlottesville. Trans people are now banned from the military. The sky's the limit on awfulness.'
With America fracturing before our eyes, I'm curious to know whether the Handmaids have experienced any abuse in their costumes.
'We've never been threatened but we did get shouted down in the Capitol Rotunda,' she recalls proudly. 'A Republican yelled, "YOU'RE DISGUSTING!"'
On the flip side, during a protest in the same building this summer, a fifteen-year-old girl asked to have her picture taken with them. 'A bit like a Disney character, right?' she jokes.
This is the divide that exists in America. It is, perhaps, the Handmaids' biggest challenge – but it's a challenge worth taking. Where there's protest, there's hope.
'That's why I'm an activist,' Stephanie smiles. 'I think it would be hard to feel hopeful if I wasn't.'
Celebrity news, beauty, fashion advice, and fascinating features, delivered straight to your inbox!
The leading destination for fashion, beauty, shopping and finger-on-the-pulse views on the latest issues. Marie Claire's travel content helps you delight in discovering new destinations around the globe, offering a unique – and sometimes unchartered – travel experience. From new hotel openings to the destinations tipped to take over our travel calendars, this iconic name has it covered.