Meet the iconic Emmy award winning costume designer behind 'Why Women Kill' and 'Mad Men'
Here Hayley Hasselhoff, who plays Patty in 'Why Women Kill' speaks to costume designer Janie Bryant, who tells us how she tackled a story that focuses on three decades simultaneously.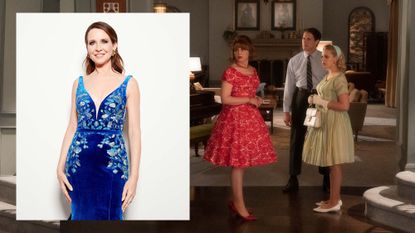 (Image credit: Getty / CBS)
Here Hayley Hasselhoff, who plays Patty in 'Why Women Kill' speaks to costume designer Janie Bryant, who tells us how she tackled a story that focuses on three decades simultaneously.
'Why Women Kill' on CBS details the lives of three powerful women each dealing with infidelity in their marriages. Beth Ann (Ginnifer Goodwin), a housewife in the '60's, Simone (Lucy Liu), a socialite in the '80's and Taylor (Kirby Howell-Baptiste), a lawyer in 2019. With incredible dark comedic performances from a star studded cast and created by Marc Cherry (Desperate Housewives, Devious Maids) it was only inevitable that it has become one of the most streamed original series' today.
The first wardrobe fitting you have is a key aspect in building any role. I had the privilege to become a part of this cast in a sweet southern role as 'Patty Jenkins'. Walking back onto the CBS lot I felt exhilarated to begin this journey as endearing Patty.
I had walked through the old New York streets on the back lot to get to Janie Bryant's office. Getting lost in awe of the scenery I see a tall beautiful woman with long wavy hair, gliding in a floral chiffon maxi, black booties and dripping in the finest jewels. A coffee in one hand and her beautiful white poodle following behind her. I knew this had to be Janie herself - she guided me into her office and went straight to work.
Janie has created costumes for AMC TV's 'Mad Men' and HBO's Deadwood, her precision to detail with her expertise, intertwined with the understanding of who the character is before dialogue was a beauty to watch.
The studio was filled with vibrant mood boards and felt as if we had walked into the chicest vintage store even Melrose Ave hadn't seen. You so often get touched by someone's knowledge and effortless execution in their art. Which is why I wanted to get to know what happens behind the scenes on set with Janie. I took it upon myself to ask Janie if she would sit down with me for a few questions, she so graciously said yes, and it truly has been a beauty to see her insight into the designs she creates.
Janie, it was so great to watch you build my character Patty's look from the beginning. The costume design behind each character allows the actor to really embody their role. What is your process in building a character in the pilot ?
The script is always my first point of inspiration. I can really get a great sense of what a character will look like by the dialogue and the setting and mood of a scene. Research, especially, if I'm designing a period piece is also very important and then of course the real fun happens in the fitting room. I love the transformation that happens when an actor transforms into the character by their costume!
With the knowledge of each character's personal growth throughout the series how do you prepare for this ahead of time?
A lot of times I can't prepare ahead of time because scripts aren't written in advance. So designing a series always keeps you on your toes for whatever may happen during the season to the characters.
You've achieved so much within your costume design career. It's only imaginable that you would take on three era's in 'Why Women Kill'. Why did you want to be a part of this project?
I loved the idea of designing three periods at once. I also love the entire concept of Why Women Kill that the brilliant Marc Cherry created. Of course I'm partial to designing the 1960's because of working on Mad Men and I personally love the styles, colours and shoulder pads of the 1980's.
What was the biggest challenge you had to overcome when focusing on the 60's, 80's and today all in one episode?
It was challenging switching back and forth creatively to three different periods. It's like designing three shows at once and I loved it!
With you extensive career in costume design, what did you learn from your experience on Mad Men that related into the '60s era in WWK ?
The 1960's are truly a beautiful and delicious time period. Mid-century modern design is a period in which I'm truly passionate. Designing the 1960's for WWK made me appreciate the 60's all over again. It made me realize how much I had been missing that era. To work with Ginnifer Goodwin, Alicia Coppola, Sadie Calvano and Sam Jaeger in the 60's was and absolute dream.
Lucy Lu's character Simone's wardrobe is filled with sophistication, colourful designs and beautiful silhouettes. Has there been a favourite look you've dressed Simone in?
There have been many looks that I have loved over the season! Lucy Lui is an amazing actress and she is incredibly open to "go for it" in terms of immersing herself in all of the 1980's opulence. One of my favourite costumes of the season is a peplum suit with huge puff sleeves that I designed for her using vintage 1980's Yves Saint Laurent floral printed silk.
Every cast member in this production are dressed to pristine perfection. Who out of the cast did you have the most fun pulling for and building their looks?
Beth Ann (Ginnifer Goodwin) is a character that the costume design was incredible to develop throughout the season. Her pallet in the beginning of the show starts off with shades of celery, beige and sad greys. As Beth Ann comes to life again her costumes become more vibrant, more colourful with solids and bold floral prints.
With the focus on women owning their power in individual ways. Was there a theme you wanted to tie in throughout each female lead ?
WWK, indeed, is all about female empowerment and with the costume design each leading lady really has their own individual style.
What made you get into costume design ?
Designing clothes and playing dress up were two of my favourite things to do when I was a little girl. I feel so blessed to do what I love.
Tell us what is next for you and if we can expect to see you designing a collection of your own someday.
I'm starting a new show for F/X called The Old Man starring Jeff Bridges. To design my own collection would be a dream come true.
The first ten episodes of the darkly comedic drama created by Marc Cherry are currently available to stream exclusively on CBS All Access . Stay tuned as the series returns for season two.
Celebrity news, beauty, fashion advice, and fascinating features, delivered straight to your inbox!