Unveiling the future: L'Oréal's top beauty breakthroughs at Viva Tech 2023
L'Oréal redefines beauty with tech-driven innovations championing environmental sustainability, inclusivity and diverse beauty for all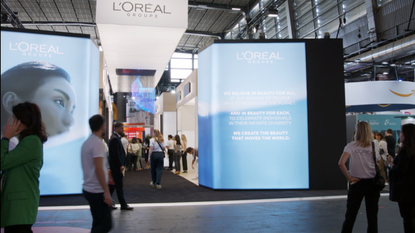 (Image credit: L'Oreal)

At VivaTech this year, the French beauty maestro, L'Oréal Group, had industry insiders buzzing with excitement when they unveiled groundbreaking innovations that are all about leveraging AR and AI. These marvels are driving utility, celebrating diversity and fostering inclusion across the beauty spectrum.
It's not the first time that L'Oréal has made waves at VivaTech, with them wowing for seven consecutive years now thanks to unveiling super innovative tech like the Water Saver by L'Oréal Professionnel, which has already saved an impressive 42 million litres of water—that's equivalent to filling 16 Olympic-sized pools thanks to the shower head which has patented tech to fragment water and save a mind-blowing 69% of water during backwash.
Did you know the digital realm is a carbon footprint culprit? Currently, it's responsible for around four per cent of global CO2 emission, and that is set to double by 2025. That's equivalent to every plane and car combined. But here's the good news: L'Oréal, one of the world's advertising giants, is stepping up its eco-game. They're not just measuring the CO2 from their digital ad campaigns—they're on a mission to reduce it. And if that's not enough, they're joining forces with Alibaba for three years to launch China's first digital circular economy to trim down the environmental effects of their e-commerce actions.
With us all searching for personalisation and products that are tailor made for us, Kérastase is rolling out their shiny new K-SCAN, a smart gadget powered by AI. It's like having a mini dermatologist just for your hair and scalp. Snap a pic, and voila – instant hair diagnosis. And for the skincare aficionados, Armani's Skin Meta Profiler is a handheld device that has been put to the test with 18,000 people worldwide. The genius algorithm spots everything—from those pesky fine lines to UV damage, and then suggests products just for you.
Maybelline and Microsoft Teams are jazzing up our virtual looks with a brand-new make-up bag. Kudos to them for partnering with the Geena Davis Foundation, ensuring everyone feels represented. In this vein, Lancôme is about to drop a game-changer next year—the Hapta. Imagine a computerised make-up applicator for those with limited hand and arm mobility. And for brow lovers, Shu Uemura's Brow Magic is a nifty gadget which uses some cool augmented Beauty Tech that promises to give you the most on-fleek brows in seconds.
Guive Baloosh, L'Oréal's Global VP, shares insights on the brand's innovation philosophy:
With the troubling economic, environmental and political times, how is beauty innovation at the moment?
"A big part of our culture and history at L'Oréal is that we believe in innovation and technology, even through economic challenges over the last century. Beauty consumers are constantly looking to get their individual needs met and my team is consistently looking at how we can solve the current challenges that people have when trying to achieve their beauty results and desires through technology. The appetite is still very large from the consumer no matter the economic times—in this industry at least."
How do you see this shifting?
"We are seeing a movement towards an individual understanding of beauty, which means consumers are expecting data and information about their hair, skin and biology—and then have the solutions, whether that's off the shelf or tailor-made. In the future there will be more tech to guide people to the right product for better performance and easier ways to try before they buy. It's not about ultra-personalised products all the time—it's more about guiding people to the right choice, enabling them to achieve the results they couldn't before and bridging the gap between the professional result and what you can get at home. The brands that will win will have technology naturally embedded in their business."

Virtual beauty is enabling uninhibited self-expression. Is it about chasing perceived perfection, or fantasy and challenging the rigid beauty standards?
"The goal of us using AR in virtual reality is to give people the most realistic understanding of what a product will look like on a face. This is very different to filters that change the face. We don't do that and have never believed in that. This is a digital way of trying a product because there is so much choice. We calibrate the product to the actual physical product as much as we can and then put this onto a platform of 300 million people on Teams, where the user can wear their virtual make-up for the call and people will visualise you the same when you wear the same product in real life. As well as helping to sell product, this helps reduce waste, saves time, facilitates better choice and, if you can give people recommendations based on consumer behaviour, then you can also save people the hassle of buying the wrong product."
What do you think of virtual influencers as inspiration?
"Today we live in a time where we are getting recommendations and advice from all services. If embedded properly it's a good way to reach people that want advice with the most accurate information and data."
What does inclusivity look like for L'Oréal five years from now?
"Inclusivity is one of our core values today and starts with individuality. We have 8billion people on this earth and each one has a different skin tone and type. To make sure we reach everyone and that everyone who wants to experience beauty can we build services to be able to achieve your shade more accurately, now we have 99% of people able to get the best shade. Our new tech, Haptar, is to help people with mobile arm disability (which is 1 in 10 people—almost 1billion people) and we partnered with a start up in California and created technology that learns how the arm goes to the face.
Sustainable beauty—is combining commerce with purpose important?
"Sustainability is one of our top values. L'Oréal has been working on this for 10 to 15 years—we have initiatives around the carbon footprint in our factory, but what we know is that sustainable innovations can't just be about the carbon footprint, it has to start with people getting a similar experience with it"
How important is transparency, backing up evidence and independent verification?
"Transparency is incredibly important. We have a QR code on the backs of products so shoppers can immediately have the information about the sourcing and where the products come from. We want to be more transparent and give that information to people so they can see the impact they are having. We believe it's an advantage to be transparent with our community."
Celebrity news, beauty, fashion advice, and fascinating features, delivered straight to your inbox!
An award-winning health and beauty writer, stylist and creative director, Lisa Oxenham is one of the UK's top beauty editors and the Beauty and Style Director at Marie Claire UK. With 20 years of editorial experience Lisa is a brand partnership expert, and a popular speaker, panelist and interviewer on a range of topics from sustainability to the future of beauty in the digital world. She recently spoke at Cognition X and Beauty Tech Live and is on the Advisory Board for the British Beauty Council's Sustainable Beauty Coalition.
A well-respected creative director she works on celebrity, model and influencer shoots with the highest calibre of photographers, filmmakers, make-up artists and hairstylists to create timeless images, attention-grabbing videos, digital events and masterclasses. Most recently Lisa has directed covers such as Lily Cole and Jameela Jamil, films such as Save The Arts featuring Francesca Hayward and sustainable fashion shoots such as Be The Change. Supporting the beauty industry over the pandemic has been a top focus, directing the British Beauty Council's six inspirational short biographical films for their Bring Back Beauty campaign.
Lisa is a wellbeing and beauty influencer with a focus on mental health and a large and engaged audience on Instagram, Facebook and Twitter.