The sensitive skin secret you need to know....
Could this be the skincare trick you've been missing?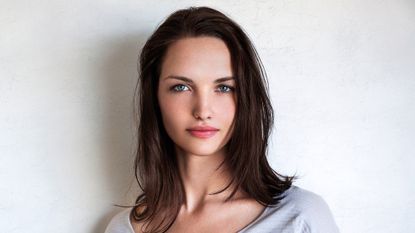 (Image credit: Dimitri Otis)
Could this be the skincare trick you've been missing?
One in five of us suffers from dry, sensitive skin but it might be environmental factors or our very own beauty regimes that are getting in the way of a healthy, radiant complexion.
Leading beauty experts agree that everything from aggressive air-con, pollution and even common allergens can trigger red, angry flare-ups in any skin type by producing inflammatory hormones.
But, in some cases, sensitive skin can be the direct result of products we use. Overloading our skin with harsh anti-ageing products and powerful daily exfoliators could be stripping it of vital defences.
So what's the cure? Celebrity beauties like Emma Stone, Scarlett Johansson and Charlize Theron have been onto this beauty secret for years – and now American brand Cetaphil has got industry insiders buzzing in the UK.
Cetaphil's best-selling range of gentle soap-free and fragrance-free cleansers has been developed by dermatologists, so its mild formulas won't strip your complexion of natural oils or upset pH levels. And as it's non-comedogenic it won't block your pores either.
Ready to get movie star radiant skin? Follow this step-by-step guide:
THE FRESHEN-UP
Pollution can block pores and aggravate skin, so wash your face thoroughly as soon as you get home rather than leaving it until bedtime. Lots of us think it's a good idea to wash with hot water to open pores and rinse with cold water to close them, but this can irritate your blood vessels, leading to dryness and even ruptures. Instead stick to using lukewarm water and a gentle cleanser.
THE CLEANSE
Cetaphil's Gentle Skin Cleanser is mild and hydrating with built-in moisturisers. It will help your complexion to achieve optimum condition, whatever your natural skin type, and protect it from external irritants and moisture loss.
THE DREAM TEAM
In addition to a cleanser that won't strip your skin of natural oils or upset your pH levels, you need an equally mild moisturiser that delivers a serious hydration hit. Apply a small amount of Cetaphil's Soothing Moisturising Cream and work in upward motions.
Considering its iconic beauty status, Cetaphil's Gentle Skin Cleanser is a snip at just £8.99. Oh, and the brand is so confident you'll see results that it's offering a full refund if you don't achieve visibly healthier-looking skin after 30 days of use.
Go to healthyskinsecrets.marieclaire.co.uk for more healthy skin advice, and to find out about the complete Cetaphil range and the money-back guarantee terms and conditions.
Get your mitts on Cetaphil now. It's available from these selected stores, subject to availability: Boots, Superdrug, Tesco, Lloyds Pharmacy, independent pharmacies, and also on Amazon.
Zinc code: CET17-07-0806
Celebrity news, beauty, fashion advice, and fascinating features, delivered straight to your inbox!