Women refugees need a home
Women Asylum Seekers Together and Women for Refugee Women launched their Home Sweet Home photography exhibition on Monday emphasising the hardship women face while seeking asylum in the UK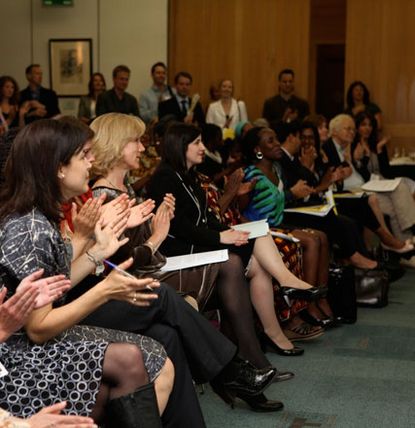 Women Asylum Seekers Together and Women for Refugee Women launched their Home Sweet Home photography exhibition on Monday emphasising the hardship women face while seeking asylum in the UK
On Monday 9th May Women Asylum Seekers Together (WAST) and Women for Refugee Women launched their incredibly moving exhibition of photographs detailing the experiences of women asylum seekers who are living destitute in the UK.
The event, held in Portcullis House, Parliament, aimed to raise awareness of the traumatic process many women have to go through to seek asylum in the UK, having fled human rights abuses in their own countries.
'More people need to hear about what women have to go through when seeking safety in the UK,' says Natasha Walter, founder of Women for Refugee Women. 'If we speak loudly enough, we will be heard.'
Women refugee speakers from the Democratic Republic of Congo, Ethiopia and Uganda captured their audience, including journalists, MP's and the actress Juliet Stevenson, with stories of gang rape, violence and fear.
Once these women reach the UK hoping for safety and support, they are often left in limbo and poverty, while they wait for decisions on their cases to made.
'The trauma these women experience in their homelands scars them for life, but it is what they go through in the UK that finally breaks their spirit,' says Juliet Stevenson, who is an active campaigner for the rights of women refugees.
Oona King, member of the House of Lords and MP for Bethnal Green and Bo from 1997 to 2005, says: 'I am proud of Britain on the whole, our policies are good, on the whole, but one thing we get unforgivably wrong is our treatment of asylum seekers.'
'Asylum is controversial in the UK and is shrouded in myth,' she says. 'We only accept 2 per cent of the world's refugees, while 80 per cent remain in the developing world. Surely the women who do make it to Britain deserve some dignity?'
Women for Refugee Women and Women Asylum Seekers Together are working to build a humane asylum process, which ensures women have access to quality legal representation and brings an end to detention and destitution.
For more information on women's asylum visit www.refugeewomen.com or contact Women Asylum Seekers Together at wast@womankind.org.uk to find out how you can make a difference.
Celebrity news, beauty, fashion advice, and fascinating features, delivered straight to your inbox!