The reality of why Syrian girls in Jordan are feeling forced into marriage
One in three women in developing countries gets married under 18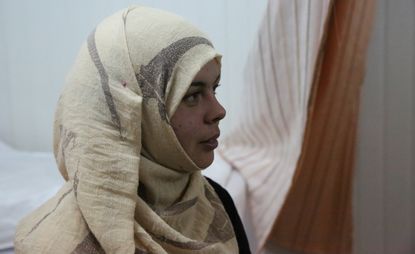 One in three women in developing countries gets married under 18
Words and photos by Sally Hayden
In a field hospital in the middle of the largest Syrian refugee camp in the world, Amal is cradling her baby son to her chest. She's sixteen. As local averages go, within the next decade this teenager will probably give birth to at least five more children, as small and dependent on her as this baby is.
A sweet, shy girl, with sequins dotted all over her headscarf, she talks lovingly about her husband - how they were introduced through a local matchmaker, and how – after just one meeting - he asked her parents for her hand in marriage.
Amal's from Ghouta, a suburb of Syrian capital city Damascus. She's been in Zaatari camp in Jordan for three years now, after fleeing the brutal, lengthy war at home. She hasn't attended school since the 5th grade.
Now she's also one of an increasing number of Syrian girls getting married while under 18 - still officially children. Many girls fall quickly pregnant - something which carries increased medical risks because their bodies may still not be ready for childbirth.
One in three women in developing countries gets married under 18, according to 'Girls Not Brides' a coalition of organisations committed to ending early marriages.
Among Syrian refugees like Amal, this number is rising because the girls and their families feel there's a lack of other opportunities for them, charities say. Poverty means refugee families can't afford to feed all their daughters, and marriage is seen as a way to provide for girls as well as to protect them against sexual assaults.
While some are forced, many of the girls I spoke to don't mind. Most of what they can remember now is conflict or displacement. War means having frightening and aggressive forces exert control and authority over you every day, one girl haltingly explains to me. It's a lack of control over your own fate.
For some of these girls, getting married is a way to re-imagine a future; to find some authority and excitement in an otherwise hopeless atmosphere.
However, long term the outlook for child brides isn't positive. Matteo Paoltroni, technical advisor for the European Commissions' humanitarian aid department (DG ECHO), said girls in early marriages are more likely to be victims of domestic violence or other forms of abuse. Abandoning education means their prospects in the future are limited. The chances of experiencing medical complications in birth are also higher.
Sitting in a waiting room in the same field hospital before a check-up is 25-year-old Ala. She's been in the Zaatari refugee camp for five years now.
Ala readily warns of the problems caused by early marriage. She was forced into it for the first time aged just 13, she says.
Her husband, a 19-year-old who lived near to her family, was very jealous. 'He was the only boy in his family,' Ala said. He stopped letting her visit her family or talk to friends.
She was also inexperienced and insecure, she recalled. 'I didn't know how to deal with everything. His jealousy, my responsibilities and taking care of the children.'
A few years later, when she was still a teenager, he told her he wanted to divorce her. Ala is now married again to a 47-year-old man she said gives her protection but whom she doesn't love. She's pregnant with her sixth child.
Each month around 170 babies enter the world in this desert refugee camp, where 78,000 Syrian refugees live in total. Of those births, 10 percent are born to mothers under 18.
Samar Muhareb, a lawyer with legal charity the Arab Renaissance for Democracy and Development - which works with refugees - said parents will often lie about a daughter's age so they can be married.
Before the war, poor Jordanians used to travel to Syria to marry off their daughters, she said, because the laws there were less strict. Now Syrians are doing it in Jordan.
In the Zaatari field hospital, run by the United Nations, women who deliver babies are supposed to stay for 24 hours, but a shortage of beds means some leave after just eight.
When Amal goes back to the makeshift shelter she's staying in, she'll have her family to help her learn to be a mother, she says. However, her husband won't be as useful – he works in a nearby town, returning to see her for just two or three days a week.
Still, she's happy, excitedly planning for her son's future. 'I want him to be educated,' she says looking down at the sleeping baby - forgetting that her own marriage means she'll never return to school.
Celebrity news, beauty, fashion advice, and fascinating features, delivered straight to your inbox!