Should UK adoption be made quicker and easier?
With the number of UK children being adopted falling significantly each year, is it time the process became quicker and easier?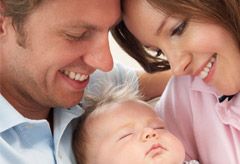 (Image credit: Rex Features)
With the number of UK children being adopted falling significantly each year, is it time the process became quicker and easier?
The number of children being rescued from care and placed in adoptive homes is falling each year, with an all-time low of 3,200 children adopted. Is it now time for a shake up?
Martin Narey, dubbed as Britain's first 'adoption czar' certainly thinks so. According to reports, Narey has released a document outlining how he thinks the 'hopelessly slow' adoption system could be reinvented.
Mr Narey, 55, who was the former chief executive of Barnardo's, has now been appointed the Ministerial Adviser on Adoption to significantly improve the current system.
The report, which includes a number of suggestions to radically change the way the adoption process is organised, will form the basis of his plan of action in his new role.
In the document he has put forward several changes including getting rid of the assumption that extended families members are the best carers for the abandoned child.
He has also outlined that drug addicted teenagers who become pregnant should be offered the option of adoption, as well as advising that children suffering abuse should be settled with a potential adoptive family straight away.
The Times originally commissioned Narey back in January to review the adoption system in the UK, and it seems he is already tackling the problems head on. He has even proposed that councils should be ranked according to their performance in the hope that this will radically shake up the second-rate adoption system.
Local authorities have been continually criticised for their handling of adoption cases, including their bias on ethnic grounds. They have been condemned for refusing white couples who are desperate to adopt and also for failing to find homes for children from ethnic minorities.
With only 70 children under the age of one being adopted last year, compared to 4,000 in 1976, and the staggering two years and seven months it takes for a child to be adopted the adoption system is certainly in desperate need of a massive overhaul. It seem Martin Narey's intervention could not have come soon enough.
Do you think the adoption system needs to be improved? Do you agree with Martin Narey's recommendations? Let us know in the comments box below.
Celebrity news, beauty, fashion advice, and fascinating features, delivered straight to your inbox!
Natalia is a health journalist with 14 years experience in the publishing industry. She has worked for a number of well known magazines and websites including Marie Claire, Woman&Home, Top Sante, Boots and The Telegraph. She likes to think she practices what she preaches when it comes to health and fitness. Her athletic prowess began early. A keen fencer for 13 years, she wielded an epée for Olympic Team GB during her teenage years. She likes to think she made sword-fighting cool before Game of Thrones came along! While working on her sporting performance with the team, she also participated in a lot of nutrition and psychology training, When it comes to time off, you'll most likely find her up a mountain somewhere. It seems holidays have become a time for climbing several thousand feet, rather than chilling out. She's now hiked eight of the major mountain ranges across four continents – including the Appalachians, the Smokies, the Sierra Nevadas (she spent her honeymoon hiking to the top of Half Dome), as well as hitting the summits of Snowdon, Pen-Y-Fan (Brecon Beacons), Table Mountain in South Africa, the Blue Mountains in Australia and the Atlas Mountains in Morocco. She's also passionate about all things health, particularly vaccinations, and will happily jump on her soap box at any given opportunity to talk about their benefits to anyone who will listen!