Why Millennial supporters of Jacob Rees-Mogg need to wake up
Jacob Rees-Mogg is no Millennial hero - his young supporters have got to get real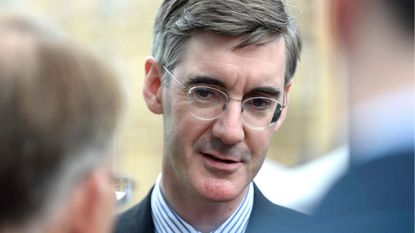 Jacob Rees-Mogg is no Millennial hero - his young supporters have got to get real
The Conservative MP Jacob Rees-Mogg has said he is against abortion even in the case of rape. In an interview with Good Morning Britain, Rees-Mogg also told the show's host Susanna Reid he is against gay marriage, though said the issue should not be a party-political one.
'I am completely opposed to abortion, life begins at the point of conception. With same-sex marriage, that is something that people are doing for themselves. With abortion, that is what people are doing to the unborn child.' When Reid asked if he was against abortion even in the case of rape, Rees-Mogg responded 'afraid so.'
'I'm a Catholic' he added, 'I take the teaching of the Catholic church seriously. Marriage is a sacrament and the view of what marriage is is taken by the Church, not Parliament'.
Jacob Rees-Mogg was once best known as the eccentric backbench Tory MP who went canvassing with his nanny. But since Theresa May's election own-goal in June lost the Conservatives their crucial majority in parliament, he's now being mooted as a serious contender for party leadership.
Even more curiously, in the last six months Rees-Mogg has become an unlikely Millennial hero. His Instagram account, which shows shots of him and his mini-me son (he has six children - the youngest, named Sixtus, was born in July) on the election trail in matching tweed is a hit, and a grassroots campaign of young Tories dubbed 'Moggentum' (a play on the left-wing group Momentum) is pushing for him to launch a leadership bid. Meanwhile, a video of him arguing for economic austerity on Question Time has had thousands of shares on Facebook, while the group 'Middle Class Memes for Rees-Moggian Teens' has more than 30,000 members.
But if his views today on abortion and gay marriage seem so at odds with those of his Millennial fanbase, no-one should be surprised. Behind the pre-2016 clownish Boris veneer is a hard-right Tory whose views make even those within his own party blanch.
He has consistently voted against same-sex marriage in the past, including allowing courts to deal with same sex divorces or annulments. He has also voted five times in favour of raising the undergraduate tuition fee cap to £9000, burdening many of the students who claim to love him with huge levels of future debt.
He is also in favour of a hard Brexit. He once even proposed a Tory pact with UKIP and Nigel Farage has praised him as an 'authentic' Brexiteer.
His comments about abortion on Good Morning Britain are also not the first time Rees-Mogg has been open about his pro-life views. He previously claimed laws in favour of a woman's right to choose have gone 'from being something specifically about the mother's health to being a variant form of contraception.'
It should be noted that though Rees-Mogg's surge in popularity might have parallels with Boris Johnson - both have used their eccentricities to their advantage, both have raised their profiles with comic turns on Have I Got News For You - unlike Johnson, who has famously flip-flopped over the course of his political career, Rees-Mogg has never pretended to be anything other than a hard-right, small government Tory. His openness in this regard has won him respect even from opposition MPs who don't share his views, such as labour MP Jess Phillips.
Though the 'Moggentum' behind him might suggest otherwise, Rees-Mogg has consistently denied any ambition to secure a Tory leadership bid. 'I think if I threw my hat in the ring, my hat would be thrown back at me pretty quickly' he said earlier this year.
Whether or not he's planning to make a challenge on the Tory leadership, Rees-Mogg's comments today are likely to damage his position as a credible candidate. For anyone but far right-wingers that can only be a good thing. Jacob Rees-Mogg might be many things, but he's no Millennial hero - the young people in his camp need to wake up to this.
Celebrity news, beauty, fashion advice, and fascinating features, delivered straight to your inbox!