US military to ease restrictions on women in combat
The US military has announced plans to reduce restrictions on women serving in combat roles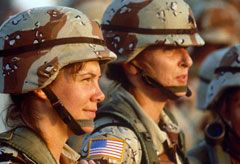 (Image credit: Rex)
The US military has announced plans to reduce restrictions on women serving in combat roles
While women are still exempt from infantry, armour and special operations, new policy could see them closer to the front lines.
Women make up 14 per cent of the US armed forces and in conditions where battle lines have become increasingly blurred, it has become less possible to keep women out of combat conditions.
The new policy would enable women to take on around 14,000 new roles in the Army and Marine Corps, which are currently denied to them.
Women would be able to take up posts ranging from tank mechanics to rocket-launcher crew members, but they would still be unable to participate in one fifth of the armed forces.
The policy was initially recommended by the Congress Military Leadership Diversity Commission last year and will take effect in 30 days unless Congress moves to block it.
'We believe it is very important to explore ways to offer more opportunities to women in the military,' says Pentagon press secretary George Little.
The director of the Service Women's Action Network, Anu Bhagwati agrees: 'It's time military leadership establish the same level playing field to qualified women to enter the infantry, special forces and other all-male units.'
There are about 200,000 women on active duty in the US armed forces.
Do you agree that women should be allowed a level playing field in combat roles? Let us know your thoughts by posting a comment below.
Celebrity news, beauty, fashion advice, and fascinating features, delivered straight to your inbox!