These Women Are At Risk Of Attack Every Time They Go To The Toilet...
A new set of WaterAid images expose how difficult it is To Be A Girl in communities without proper toilet facilities.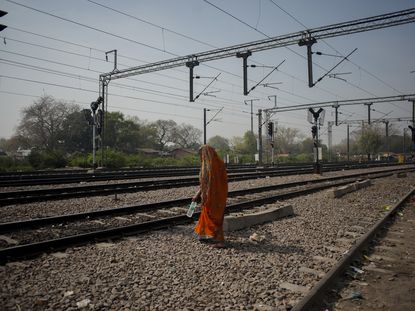 (Image credit: WaterAid/Poulomi Basu)
A new set of WaterAid images expose how difficult it is To Be A Girl in communities without proper toilet facilities.
Imagine if this was the only place in the world that you could go to the toilet. Exposed, vulnerable and surrounded by other people, this is the shocking reality for almost half a billion women living in slums around the world who don't have the luxury of a bathroom in their home, or even a shared toilet block to relieve themselves in.
These powerful images, released by WaterAid's 'To Be A Girl' campaign, highlight the dangerous conditions that those who practise open defecation are forced to subject themselves to on a daily basis.
Women and girls are the most at risk and, while it is advised for them to never go alone, violence and rape are regular consequences of the situation.
Sunita* a mother of one living in a slum in Kanpur, India, was gang raped by three men as she went to the toilet beside a disused railway track.
'One man was hiding behind the bush, one was in a tree, and one was waiting in an abandoned house next to the track,' she said of the ordeal. 'They started throwing stones at me and I started bleeding. I picked up a stone and said I would throw it so they started hitting me.'
The men then brutally raped Sunita, covering her mouth with her trousers so that she couldn't scream, before leaving her naked and alone after the attack. She was then forced to crawl back to her husband, who found her lying on the floor outside her home.
'When I saw her lying in the house I couldn't stop crying,' Sunita's husband said. 'She was in so much pain. I took her to the doctor to be treated. We went to the police but nobody registered her information. They just asked her why she lives here, saying we should live somewhere else. But we have nowhere else to go.'
After Sunita's husband and daughter were turned away by the local police, the family have reduced their food intake in an attempt to avoid needing the toilet.
Defecating in the open is not only physically dangerous for women, but emotionally humiliating, too. 16 year-old Kajal lives in a slum built on army-owned land which, as a consequence, means that any time someone tries to build a toilet block, the army knocks it down.
'I go to the toilet in nearby fields," says Kajal. When the wheat crop is high, we're better hidden. But once it's been harvested, girls and boys can see each other.'
'Sometimes boys take photos on their mobile phones. We have to cover ourselves with our scarves when going to the toilet. During the monsoon season, both the fields are knee-deep in water. We have to find a raised platform and boys face one way while girls face the other. When I go to the toilet, people pass remarks and I get annoyed. It's also not very safe. A five-year-old girl was taken by some boys when coming back from the toilet so I don't go on my own. I usually go with my sister or cousin.'
'These terrible and tragic stories are part of a much wider crisis,' says WaterAid Chief Executive Barbara Frost. 'One in every three women around the world lacks a toilet that meets even basic standards and half a billion women and girls have no choice but to relieve themselves in the open each and every day.'
WaterAid is working with communities around the world to build toilet facilities and teach about sanitation. To make a difference, please visit the WaterAid website before 9 September as the UK government will match every donation.
All images: WaterAid/Poulomi Basu
Celebrity news, beauty, fashion advice, and fascinating features, delivered straight to your inbox!