Sunflower seeds take over Tate Modern
The artist who conceived Beijing's Olympic stadium has created an installation of sunflower seeds at the Tate Modern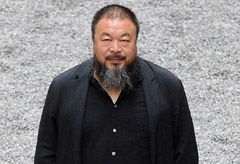 (Image credit: Rex Features)
The artist who conceived Beijing's Olympic stadium has created an installation of sunflower seeds at the Tate Modern
Chinese artist, Ai Weiwei, has taken over the Tate Modern with his symbolic interpretation of the food famines that killed millions in China between 1958 and 1961.
The artist, who was commissioned alongside Swiss architects Herzog and de Meuron to design the main stadium for the 2008 Beijing Olympics, has covered the floor of the Tate Modern's giant turbine hall with 15 million replica sunflower seeds.
The work of art symbolises the famines that occurred during the rule of Mao Tse-tung, which killed 30 million people between 1958 and 1961.
Ai said: 'The seeds are in memory of communist times. We would share them out with friends.'
As of today, visitors to the London gallery will be encouraged to walk, play and create their own designs from the handcrafted porcelain seeds, individually made by labourers in a Chinese workshop.
Weighing in at 150 tons, the installation was transported to Britain last week and is the 11th in the popular Unilever series at the Tate Modern that began in 2000 with Louise Bourgeois's giant steel spiders.
Ai is the most political artist to have been commissioned by the Tate. Born in China, the artist found the political and cultural climate conducive to creativity, moving to New York in the early 1980's, before returning to China in 1993 when the country began to open up to greater western influence.
Ai Weiwei is responsible for designing the steel latticework frame of the Beijing Olympic stadium, nicknamed the bird's nest.
Celebrity news, beauty, fashion advice, and fascinating features, delivered straight to your inbox!