Oscar Pistorius Set To Be Released After Just 10 Months In Jail
Pistorius is set to be released on parole in August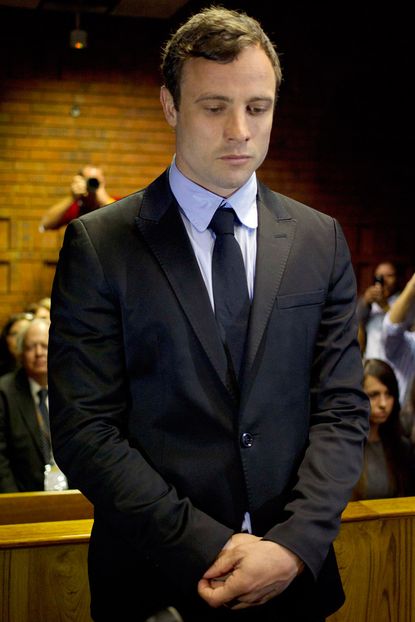 (Image credit: PA Photos)
Pistorius is set to be released on parole in August
Oscar Pistorius could be released from prison after serving just 10 months of his five-year sentence for shooting dead girlfriend Reeva Steenkamp.
The Paralympian is set to leave his South African jail to begin parole on 21 August, meaning that, if this happens, he will have served only a sixth of his sentence.
Pistorius was cleared of murder, but found guilty of culpable homicide, the South African equivalent of manslaughter, after he shot Reeva several times through a closed bathroom door in their home on Valentine's Day 2013.
The parole board has ignored an emotional please from Reeva's parents, Barry and June, who said that although they have managed to forgive the athlete, serving just 10 months for taking a life is simply not punishment enough.
'We have forgiven Mr Pistorius even though he took the life of our precious daughter, Reeva. Our lives will never be the same as we live with the sadness of her death every day.
'Reeva had so much to offer this world and we were all robbed of her life when she was killed. As her family, we do not seek to avenge her death and we do not want Mr Pistorius to suffer; that will not bring her back to us. However, a person found guilty of a crime must be held accountable for their actions.'
The Steenkamps added: 'Statistics show that our society is under continuous attack from criminals and murderers. Incarceration of 10 months for taking a life is simply not enough. We fear that this will not send out the proper message and serve as the deterrent it should.'
The prison committee has recommended that Pistorius be released on August 21, which is the soonest possible date he's eligible for parole, with AP reporting that acting National Commissioner of Correctional Services, Zach Modise, said that the recommendation was made based on his good behaviour.
The decision is still pending but, if released, it's likely Pistorius will be under house arrest.
It was also announced this week that an appeal against his culpable homicide conviction will be heard in November, when prosecutors will argue that judge Thokozile Masipa misinterpreted the law and should have found him guilty of murder.
If the supreme court of appeal agrees, Pistorius could be sent back to prison for a minimum of 15 years.
Celebrity news, beauty, fashion advice, and fascinating features, delivered straight to your inbox!