New campaign demands an end to toxic talk about women's periods
Wider spread education on periods needs to start right now.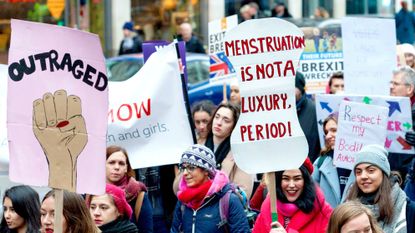 (Image credit: Rex Features)
Wider spread education on periods needs to start right now.
In honour of Menstrual Hygiene Day, Plan International UK has just announced plans to start a new campaign to educate more people about periods.
This declaration comes after a recent study revealed some shocking home truths about the existing stigma surrounding the female menstrual cycle.
In a poll of 1,000 UK girls aged 14-21, one in five have experienced teasing and bullying around their periods, with as many as 57 per cent revealing that they've received negative comments of some kind connected with their period.
Heartbreakingly, 10 per cent of girls said they had been made to feel dirty or disgusting, with many admitting that it massively impacted their confidence and self-esteem.
In addition to these factors, Plan International's study found that two thirds of girls have missed a partial or full day of school because of their period, with concerns about leaking, anxiety and embarrassment being cited as the force behind these absences.
As part of its efforts to strip the talk around periods free of all stigma and shame, Plan International is hosting a public event for Menstrual Hygiene Day on London's South Bank.
There's still a long way to go before the conversation around periods becomes normalised, so we need to act now to end the humiliation that so many young girls in the UK still face.
Discussing Plan International UK's findings, Tanya Barron, Chief Executive at the charity, stated: 'Girls across the UK are facing unacceptable stigma and shame linked to their periods, and this survey shows that, too often, this takes the form of verbal abuse and bullying.'
Tanya added: 'If girls around the world are to reach their full potential then we must put an end to the stigma and taboo around periods, and the best way to do that is through education and open conversations that normalise periods and put an end to the silence.'
It's time to put an end to the suffering caused by period polarisation - let's get out there and talk.
Celebrity news, beauty, fashion advice, and fascinating features, delivered straight to your inbox!
Niamh McCollum is Features Assistant at Marie Claire UK, and specialises in entertainment, female empowerment, mental health, social development and careers. Tackling both news and features, she's covered everything from the rise of feminist audio porn platforms to the latest campaigns protecting human rights.
Niamh has also contributed to our Women Who Win series by interviewing ridiculously inspiring females, including forensic scientist Ruth Morgan, Labour MP Stella Creasy and ITV's former Home Affairs Editor Jennifer Nadel.
Niamh studied Law in Trinity College Dublin. It was after enrolling in a Law & Literature class on her year abroad in Toronto that her love of writing was reignited. In no particular order, her big likes are Caleb Followill, hoops, red wine, sea swimming, shakshuka and long train journeys.