Jemima Khan denies super-injunction
Jemima Khan has denied taking out a gagging order to prevent the publication of intimate pictures of her and Jeremy Clarkson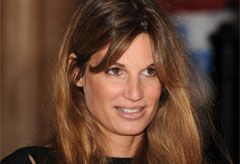 (Image credit: Rex Features)
Jemima Khan has denied taking out a gagging order to prevent the publication of intimate pictures of her and Jeremy Clarkson
Following the recent controversy surround celebrity injunctions, Jemima Khan has denied taking out a super-injunction to stop the publication of intimate pictures of herself and Top Gear presenter Jeremy Clarkson.
The identities of a host of celebrities, including Miss Khan, who allegedly obtained gagging orders to hide details of extra-marital affairs and personal lives, were disclosed on Twitter yesterday.
It is not know who created the account, but the postings have already attracted thousands of followers on the micro-blogging site. Socialite Jemima Khan insists she was incorrectly named in the tweets and used her own Twitter account to deny claims.
'OMG – Rumour that I have a super-injunction preventing publication of 'intimate' photos of me and Jeremy Clarkson. NOT TRUE!' she tweeted.
In a second tweet, she added: 'I have no super-injunction and I had dinner with Jeremy and his wife last night. Twitter, Stop!'
Public figures, footballers and actors have increasingly been turning to the use of injunctions to protect themselves and their families against the publication of extra-marital affairs and block stories about their private lives.
'The whole business is becoming a bit silly,' says MP John Hemming, who used the parliamentary privilege to reveal that former RBS chief executive Sir Fred Goodwin had taken out an injunction. 'I think people who have taken out the injunctions have done more harm to their reputations.'
But liberal lawyer Kate Macmillan says the tweets were a flagrant breach and the author should be pursued. 'If I was acting for one of these individuals I would take all steps under the law to ensure the privacy of my client.'
Should the author of the Twitter account be pursued for ousting celebrities who have taken out injunctions, or is the internet is a place for free speech? Do celebrities have the right to hide their private lives? Let us know your thoughts by posting a comment below.
Celebrity news, beauty, fashion advice, and fascinating features, delivered straight to your inbox!