Happy people live longer
Happiness could help you live longer as new research shows higher levels of contentment decrease the risk of premature death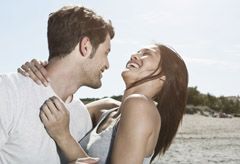 (Image credit: REX)
Happiness could help you live longer as new research shows higher levels of contentment decrease the risk of premature death
Having a positive outlook on life could help you live longer, according to a study by the University College of London that suggests positive well-being is a remedy for stress and ill health.
The five year study of 4,000 people aged 52 to 79 reveals that those with a higher level of contentment are 35 per cent less likely to die prematurely.
'The present findings provide further reason to target the positive well-being of older people,' says lead researcher Professor Andrew Steptoe.
The study, published in the Proceedings of the National Academy of Sciences, supports previous research championing the possible health benefits from having a 'glass half full' approach to life.
'The happiness could be a marker of some other aspect of people's lives which is particularly important for health,' says Prof Steptoe.
'For example, happiness is quite strongly linked to good social relationships, and maybe it is things like that that are accounting for the link between happiness and health.'
Accounting for factors including depression, anxiety, physical health and wealth, the researchers conclude that those people who recorded the highest levels of happiness were 33 per cent less likely to die before their time.
Celebrity news, beauty, fashion advice, and fascinating features, delivered straight to your inbox!