Gucci And UNICEF Celebrate Their 10-Year Long Partnership With This Inspiring Film...
Growing Tall highlights the impact education can have on children, especially women and girls.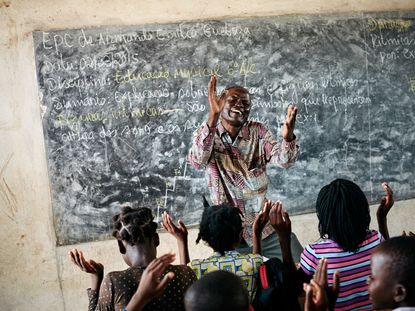 Growing Tall highlights the impact education can have on children, especially women and girls.
It's been ten years since Gucci teamed up with UNICEF to launch a global partnership with the sole aim of helping children gain access to quality education. To celebrate the impact of this initiative, the Italian fashion house has today released Growing Tall, a short film highlighting the transformative impact of education.
Because of the Gucci-UNICEF partnership, 7.5 million children in sub-Saharan Africa and Asia have been helped. Gucci's campaigns have mainly focused on helping people in Malawi and Mozambique and, there, more than 8,700 teachers have been trained, 300 classrooms have been built, 14,600 school desks have been supplied and 1,800 water and sanitation facilities have been bought, meaning children have been able to learn in a safe, clean and hygienic environment.
Growing Tall, directed by Brooklyn-based filmmaker Christina Voros, is set in Mozambique and highlights the impact access to quality education has had on the people there, particularly the women and girls.
'UNICEF is grateful to Gucci and its employees for their commitment to improving children's lives and futures through education,' said UNICEF Executive Director Anthony Lake. 'Every child should have a fair chance in life. That begins with a fair chance to learn.
'Through our long and successful partnership, Gucci has helped provide that chance to so many children who might otherwise be excluded – and in doing so, provided them with the tools to build a better world for themselves and their communities.'
Despite all the progress made, though, around 58 million children still remain out of school and more than half of these are girls. Gucci is continuing its partnership with UNICEF through CHIME FOR CHANGE.
Watch Growing Tall below and prepare to be inspired.
Celebrity news, beauty, fashion advice, and fascinating features, delivered straight to your inbox!