The 9 Most Stylish Modern Brides
Olivia, Angelina, Solange and Keira, we salute your bridal style...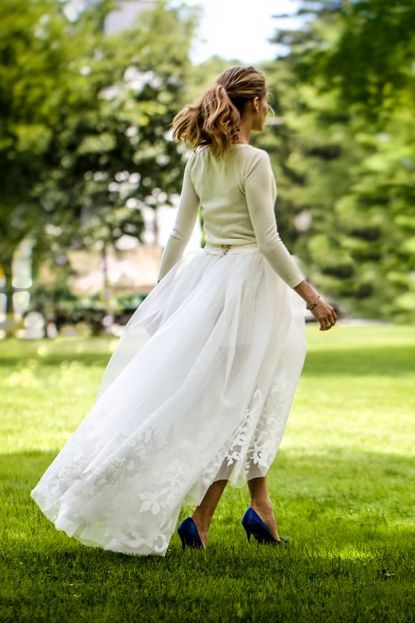 Olivia, Angelina, Solange and Keira, we salute your bridal style...
Want a totally modern wedding dress (or jumpsuit, or three piece?) Essentially anything other than a classic meringue? Take inspiration from the sartorial decisions of these seriously cool brides...
Olivia Palermo – The Three Piece Olivia Palermo is a street style maverick, so we knew she'd pull something special out of her (supersize Hermes) bag for her wedding to Johannes Huebl in June 2014. Shunning tradition completely, she skipped the meringue and instead went for a slick Carolina Herrera three piece, made up of tailored shorts, a sheer organza skirt and a cashmere jumper. 'I worked with Carolina's team to put the idea together from different elements of her collections,' Olivia told us exclusively. 'I always like to have my own take on things - I love a pop of colour, even in bridal, so those Manolo [Blahnik] shoes were my something blue.'
Angelina Jolie – The Kiddy Designers Here's a novel idea; why not let your six children under the age of 12 design your wedding dress? With a little help from Donatella Versace, that's exactly what Angelina Jolie did when she married Brad Pitt in 2014. Maddox, Pax, Zahara, Shiloh and twins Vivienne and Knox scribbled up a storm in their playroom, before Donatella translated their messages into exquisite embroidery on Ange's veil.
Solange Knowles – The Jumpsuit And Cape The jumpsuit, the cape, that incredible hair and make-up… Solange, we worship at the, um, altar of your wedding style game. Does it get any more modern than her two stunning ensembles? Even the star's wedding portraits were shot in a kooky-cool way...
(See the gallery above for all the pictures of our modern wedding dresses)
Kim Kardashian – The Cool Cutouts When Kim married Kanye, she asked close friend and Givenchy creative director Riccardo Tisci to drape some lacy white fabric over those famous curves. And drape he did – a beautifully crafted gown cut with razor sharp precision. The slashed 'n sheer waist panels, we think, make this all the more modern. 'I'll definitely pass down my Givenchy wedding dress to North,' Kim exclusively told us. 'Everything I keep for her is organised in storage. Maybe I'll give her the key when she turns 18!'
Poppy Delevingne – The Maxi To Mini Transformer We love a fashion hybrid and the multi-tasking abilities of Poppy Delevingne's wedding dress have earned it a place in our all-time wedding dress hall of fame. For church, said bespoke Chanel dress was a maxi. But come evening? Poppy whipped off its chiffon hem to leave behind a haute beaded mini. Well, what else did you expect from one of the world's greatest fashion party girls?
Keira Knightley – The Queen Of Bridal Thrift A tulle Chanel tutu dress and rockstar mini jacket - sounds like a cool wedding outfit right? And then Keira reveals that the look was recycled, just something she already had in her wardrobe and decided to re-work on the day. 'I'd worn the dress lots, it was my something old,' Keira told the Telegraph. 'I liked not making a big deal about it. I just wanted to be in something I had had a great time in, something I would have a great time in again.' Has any bride ever made a more modern style statement?
Kate Moss - The Trend Setter For her wedding to Jamie Hince in 2011, almost two whole years before a certain 1920s-glam, Leonardo-tastic movie hit the big screen, Kate Moss wore a John Galliano flapper dress. And, just like that, Gatsby fashion mania was born. Long lines and decadent sequins were officially a thing, a trend not limited to bridal wear, but one that took over our entire wardrobes. Only Mossy could make a fashion impact like this on her big day...
Kate Bosworth - The Anti-Meringue Volume on a wedding dress doesn't have to mean ruffles, Kate taught us at her wedding to Michael Polish in January 2014. Her Oscar de la Renta gown was almost architectural in its clean lines, cutting a super-modern bridal silhouette.
(Picture: Martha Stuart Weddings)
Kate Middleton – The New Icon Oh come on, you didn't think we could leave the Duchess out of our modern brides round up, did you? The dress itself has traditional aspects, yes, but the impact, interest and influence have made it one of the most important in modern history. Kate's choice of designer, Alexander McQueen's then-new creative director Sarah Burton, was perfect, giving a fresh lease of life to an iconic British fashion house in its time of need. Not to mention that it's now one of the most copied dresses ever...
Celebrity news, beauty, fashion advice, and fascinating features, delivered straight to your inbox!