Miuccia Prada releases sketches of her Great Gatsby costume designs
The Italian designer has released a series of costume drawings for the eagerly-anticipated film adaptation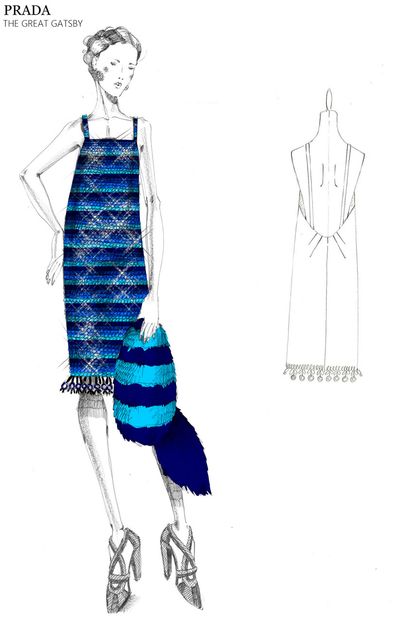 (Image credit: Prada)
The Italian designer has released a series of costume drawings for the eagerly-anticipated film adaptation
We're already counting down the days until Baz Luhrmann's The Great Gatsby hits cinema screens thanks to its star-studded cast and dazzling Jazz Age setting, and now we have yet another reason to get excited about the release: Miuccia Prada's gorgeous costume sketches.
The Italian worked with costume designer Catherine Martin to create more than 40 bespoke looks for the film, each inspired by catwalk styles from the Prada and Miu Miu archives, and has now released a series of drawings of her designs for the eagerly-anticipated big screen adaptation of F. Scott Fitzgerald's famous novel.
The four sketches show three Prada designs and one Miu Miu dress all carrying the flapper girl hallmarks of the glamorous era – think shimmering silk gowns embroidered with crystal and sequins; velvets, furs and dancing fringing; and in flickering shades of emerald, jade, topaz and gold. The designs will be worn by the film's star-studded cast, which includes British actress Carey Mulligan and A-lister Leonardo DiCaprio, who play Daisy Buchanan and Jay Gatsby respectively.
THE GREAT GATSBY ON-SET PHOTOS
'Baz and Miuccia have always connected on their shared fascination with finding modern ways of releasing classic and historical references from the shackles of the past,' explains Martin. 'This connection is central to our relationship with Miuccia Prada on The Great Gatsby, and has connected our vision with hers. In the same way Nick Carraway (the narrator in the novel) reflects on a world that he is within and without, we have tried to create an environment that the audience will be subconsciously familiar with, yet separated from.'
It's not the first time that Prada has worked her magic on a Baz Luhrmann film. The Milan-based designer created a suit for Leonardo DiCaprio to wear during the wedding scene in 1996's Shakespeare adaptation, Romeo + Juliet. More recently, the creative duo teamed up to produce a series of short films for the Metropolitan Museum of Art in New York's 2012 exhibition, which celebrated the work of Prada and the late Italian designer Elsa Schiaparelli.
Originally slated to hit cinema screens at Christmas, The Great Gatsby will now open in the summer.
JAY-Z TO WORK ON GREAT GATSBY SCORE
CAREY MULLIGAN: STYLE HIGHS & LOWS
Celebrity news, beauty, fashion advice, and fascinating features, delivered straight to your inbox!