Women to wait 98 years for equal pay
It will take nearly a century for women executives to receive the same pay as their male counterparts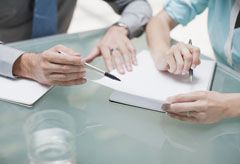 (Image credit: REX Features)
It will take nearly a century for women executives to receive the same pay as their male counterparts
Women may have had equal voting rights since 1928, but we are still a century off pay equality, a new study has shown.
It will take until 2109 for female executives to catch up to their male counterparts in pay parity, a study by the Chartered Management Institute (CMI) reveals.
On average male managers are paid £42,441 compared to females in the same role who earn just £31,895, despite woman's salaries having grown by 2.4% and men's by 2.1% in the last year.
The shocking gender pay gap is biggest in Northern Ireland, where men are paid £13,793 a year more than their female counterparts. The Midlands come second with a pay difference of £11,346 and London is third with male colleagues taking home £11,129 more than woman bosses.
Women do, however, earn more than men when in junior management roles. The CMI found on average junior women managers now earn £21,969, which is £602 more than men at the same level, but the gender pay gap as a whole is greater in 2011 than in 2010.
Mike Petrook, head of public affairs at the CMI, said: 'Our reaction to it taking almost 100 years to get any form of parity is incredible alarm. It is a position we shouldn't be finding ourselves in.
'It brings with it issues of discrimination and loss of skills, as women are more prepared to walk [from jobs] than men if they are not getting what they want.'
Would YOU walk from a job if you weren't getting what you wanted? Tell us in the comments box below...
Celebrity news, beauty, fashion advice, and fascinating features, delivered straight to your inbox!