End of 'sell-by' dates to save households £680
Misleading sell-by dates are to be scrapped to curb food waste as five million tons of perfectly good food is apparently binned each year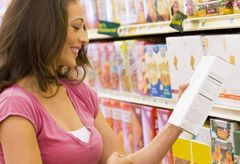 (Image credit: Rex Features)
Misleading sell-by dates are to be scrapped to curb food waste as five million tons of perfectly good food is apparently binned each year
Misleading sell-by dates are to be scrapped to curb food waste as five million tons of perfectly good food is apparently binned each year.
Judging the contents of your fridge by the sell-by dates will soon be a thing of the past as new guidelines mean all food and drink must be labelled with only one date - either a 'best before' or a 'use by'.
An estimated five million tons of perfectly good food worth around £12 billion is binned every year due to sell-by dates, - with the annual cost per household totalling around £680 a year.
A supermarket survey last year found that over half of us throw away food past its 'sell-by' date even though it is still safe to eat.
'We want to end the food labelling confusion and make it clear once and for all when food is good and safe to eat,' says Environment Secretary Caroline Spelman. 'This simpler and safer date labelling guide will help households cut down on the £12billion worth of good food that ends up in the bin.'
The agreement was drawn up by the Department for Food, Environment and Rural Affairs following a consultation with manufacturers, supermarkets and trade bodies to end confusion.
Most foods such as tinned and dry goods carry a 'best before' date to indicate when they will no longer be at their best but are still safe to eat, whereas food which is unsafe after a certain date, such as soft cheese, meat and eggs carry a 'use-by' date.
'A number of different dates can be found on our food so we need to make sure that everyone knows the difference between them,' says Liz Redmond of the Food Standards Agency.
'This new guidance will give greater clarity to the food industry on which date mark should be used on their products while maintaining consumer protection.'
Are you a slave to a sell-by date? Or are you a 'sniff it and see' sort? Let us know your food foibles in the box below.
Celebrity news, beauty, fashion advice, and fascinating features, delivered straight to your inbox!