X Factor winner Joe McElderry losing to Rage Against The Machine in Christmas number one battle
Joe is trailing behind in the battle of the bands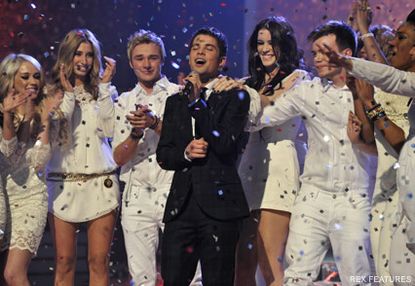 (Image credit: Rex Features)
Joe is trailing behind in the battle of the bands
X Factor winner Joe McElderry's single The Climb is trailing behind Rage Against the Machine in one of the fiercest battles the singles chart has seen in years.
Joe is competing against Rage Against the Machine's Killing in the Name, which has been championed by an anti-X Factor Facebook group hoping to push their song choice to the top spot for Christmas.
SEE ALL THE X FACTOR FINAL PICS HERE
So far Rage Against the Machine has been inching ahead of The Climb, but this position is based on downloads alone.
Joe's CD single - a cover of the Miley Cyrus hit - officially hits the shops today, so no doubt the geordie teenager will take the lead.
A spokesman for HMV agrees there will be a huge change when the CD is released.
'Whilst it's true that, since Sunday night, quite a few more fans have been downloading the Rage track from HMV's digital music store off the back of the internet campaign, we believe this trend will be reversed in a big way once the physical CD single of Joe's The Climb officially goes on sale,' he said.
Meanwhile, Joe's new boss Simon Cowell has branded the Facebook campaign responsible as 'stupid' and 'cynical'.
But despite this, the music mogul is still confident Joe will make the top spot.
'We've got 500,000 singles going out on Wednesday and Joe WILL be Number One,' he said.
Mr Cowell then added, 'Why not let the kid have his moment? It's all very Scrooge. It's miserable to put down young talent. We should celebrate it. I am! I've had a glass of champagne or two.'
Who do you think will win the battle for Christmas number one? Let us know in the comments box below.
SEE OUR TALENT SHOW WINNERS AND LOSERS
Celebrity news, beauty, fashion advice, and fascinating features, delivered straight to your inbox!