X Factor admit altering Kitty Brucknell's voice for live performance
'A robotic effect was used' for Brucknell's Halloween perfromance admit X Factor bosses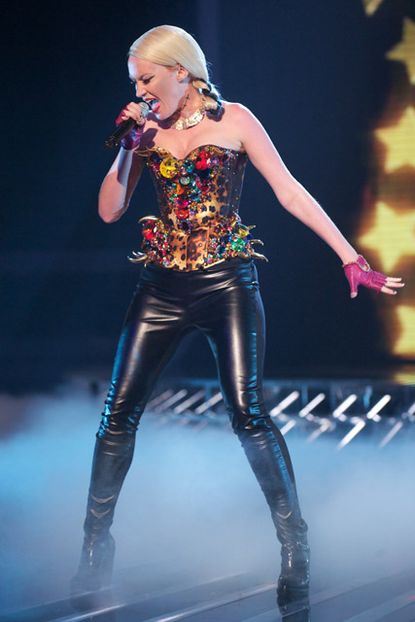 (Image credit: REX)
'A robotic effect was used' for Brucknell's Halloween perfromance admit X Factor bosses
X Factor bosses have admitted 'a robotic effect was used' to digitally alter controversial contestant Kitty Brucknell's voice during her Saturday night Halloween performance.
PICS: X FACTOR LIVE SHOW FASHION Amid yet morecontroversy, X Factor bosses have come under fire for digitally altering the voice of Kitty Brucknell during her performance on Saturday night.
Many viewers took to Twitter to vent their frustration at Kitty's rendition of Eurythmics classic Sweet Dreams, saying the performance had been unfairly manipulated and enhanced.
But while X Factor bosses are admitting to using 'a robotic effect' they are refusing to say that her vocals benefited from autotuning.
'The X Factor does not use autotuning. Kitty's track had a retro electronic style so a robotic effect was used so that the vocals were in keeping with the track,' an X Factor spokeswoman has said.
'This did not alter the pitch or tone of the vocals in any way. If Kitty had hit a wrong note viewers would have heard it.'
The spokeswoman added: 'This is nothing like auto-tuning and we do not use any effects which would materially change or mislead viewers as to the pitch or tone of the original vocal.
The judges however seemed pleased with the performance with Tulisa Contostavlos saying: 'Every week you pull a new trick out the bag, you are the most inventive, and for me you're the least manufactured, you bring yourself to the stage.'
PICS: X FACTOR LIVE SHOW FASHION
Are YOU watching X Factor 2011? Tell us in the box below...
Celebrity news, beauty, fashion advice, and fascinating features, delivered straight to your inbox!