WATCH: Rosie Huntington-Whiteley's brand new Transformers ad
The leggy lovely stars in a brand new TV trailer for the hotly tipped movie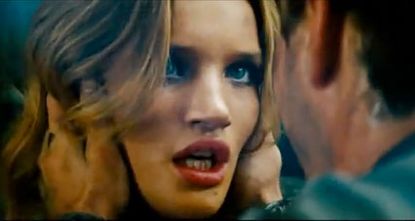 The leggy lovely stars in a brand new TV trailer for the hotly tipped movie
We've been on the edge of out seats waiting for the first look at action hero Shia LaBeouf and Victoria's Secret model Rosie Huntington-Whiteley hotly tipped summer flick, Transformers: Dark Side of the Moon. And now bosses have released a brand new clip of the film.
SEE MORE ROSIE HUNTINGTON-WHITELEY PICS HERE!
The sneak TV peak premiered Stateside earlier this week, during coverage of the Nascar Daytona 500 race.
And it shows model Rosie in her brand new role for the very first time.
The leggy lovely replaces Hollywood hot star, Megan Fox in the action packed flick, after she was unceremoniously dumped by bosses, following a bust-up with director Michael Bay.
And it seems Rosie was more than a little surprised when she landed the lead.
'I went to the casting unaware they were looking for a new female lead,' she told Total Film of her whirlwind foray into acting.
'We were told it was for a nemesis role and I left thinking I was awful. The next day I was offered the lead!
'I met Shia that evening and within three weeks I was on set shooting my first scenes.'
WATCH the brand new trailer here…
Transformers: Dark Side of the Moon hits screens in the UK on July 1 this year.
What are your thoughts on the latest Transformers sneak peek? Let us know in the comments box below.
SEE MORE ROSIE HUNTINGTON-WHITELEY PICS HERE!
Celebrity news, beauty, fashion advice, and fascinating features, delivered straight to your inbox!