WATCH! Daniel Radcliffe's hilarious spoof video
'I AM Harry Potter!' - SEE Daniel Radcliffe go potty in a hilarious new video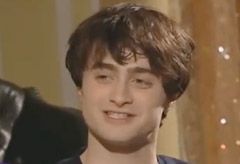 'I AM Harry Potter!' - SEE Daniel Radcliffe go potty in a hilarious new video
After ten years of playing the same character, it seems Harry Potter star Daniel Radcliffe is a bit confused. Footage has emerged of the hilarious actor confusing an unsuspecting journalist, by pretending he thinks he actually is the famous wizard.
SEE ALL THE LATEST HARRY POTTER PICS HERE!
In an new interview – which many have already branded a spoof – the Dan confounds the unsuspecting interviewer by explaining he's a 'wizard playing an actor', not the other way around.
And somehow, the 21-year-old star manages to keep a straight face throughout.
When asked if it was difficult playing the same character after ten years, Dan replies: 'No. It was probably around the fourth film that I started to realise that I was Harry.
'I thought I was an actor playing a wizard but really I was a wizard playing an actor.'
'I go from my Harry life when I am me and then I walk out of the room and I'm Dan the actor,' he continued.
'Dan is a fantastic character who I really enjoy playing. It was a revelation when I discovered that was the way the world works.'
Ok then.
WATCH Dan's hilarious video here….
Have you seen the latest Harry Potter flick yet? What are your thoughts on the film? Let us know in the comments box below.
SEE ALL THE LATEST HARRY POTTER PICS HERE!
Celebrity news, beauty, fashion advice, and fascinating features, delivered straight to your inbox!