Twilight's Kellan Lutz: 'I'm not a sex icon'
The smouldering star poses in a hot new photo shoot, but can't see what all the fuss is about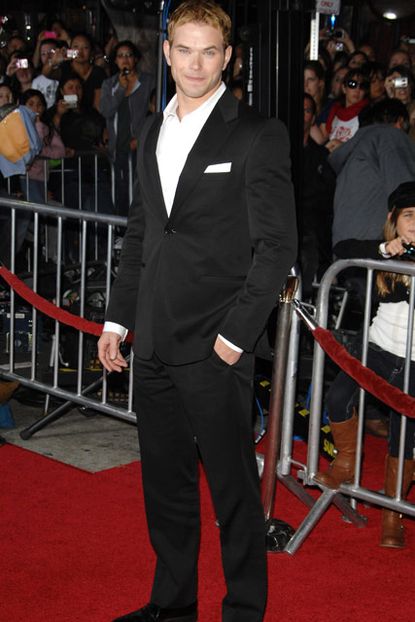 (Image credit: Rex Features)
The smouldering star poses in a hot new photo shoot, but can't see what all the fuss is about
Smouldering Twilight heartthrob Kellan Lutz has posed for a steamy new photoshoot, but insists he doesn't have sex appeal.
The hot new shots - taken for Interview magazine - show the gorgeous star posing wet and shirtless, with some spectacularly toned abs on display.
SEE ALL THE TWILIGHT PICS HERE!
But down to earth Kellan claims he can't see what all the fuss is about, and doesn't see himself as good looking.
'It's funny when people say you have sex appeal or call you the next Brad Pitt. I just laugh. I'm not that. I don't want to be that,' he told Interview magazine.
''You're a sex icon.' Why? Because I played a vampire in a movie? It's all very unearned. If I had the best freaking abs in the world or if I looked like Brad Pitt does in Fight Club, then cool, but I'm not starving myself.'
'I eat what I want, and I'm not a workout fiend,' the humble star continued.
'My genetics are good, but they aren't crazy He-Man style. I don't get it, but I appreciate it.'
And Kellan reveals that rather than his hotter-than-hot status, he would rather be known for his talents as an actor.
'It just blows my mind how many people think that because I was a model, I think I'm pretty and that I can use my looks to get ahead,' he said. 'I'm not pretty!'
Well, we would beg to differ!
Are you a Kellan fan? Or do you prefer a certain Mr Pattinson when it comes to your favourite vampire? Let us know your thoughts below.
SEE ALL THE TWILIGHT PICS HERE!
ROBERT PATTINSON PICTURES
KRISTEN STWART STYLE HIGHS AND LOWS
Celebrity news, beauty, fashion advice, and fascinating features, delivered straight to your inbox!