SEE PICS: Inside fashion's biggest party
See Madonna and more let their hair down at the Costume Institute Gala afterparty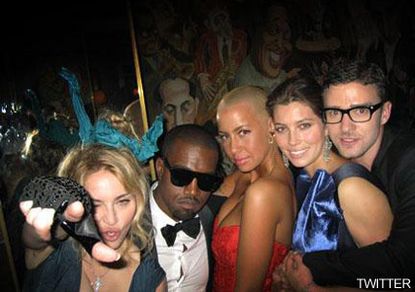 See Madonna and more let their hair down at the Costume Institute Gala afterparty
Whether it was a case of a few too many glasses of champagne or just Madonna being her usual outrageous self, the Queen of Pop has been caught on camera, grabbing Kanye West's girlfriend's bottom.
The 50-year-old singer was papped striking this pose at the star-studded Costume Institute Gala Ball earlier this month. Cosying up with Madge was Mr Trousersnake, Justin Timberlake and girlfriend Jessica Biel.
Kanye's girlfriend model Amber Rose was so chuffed with the party pictures that she posted them on her Twitter page, and in so doing broadcasted Madonna's antics to the world.
However, it appears that the model's rapper boyfriend doesn't share her love of the social networking site ranting on his personal blog that 'Twitter offers everything I need less of'.
He also claimed that he was 'too busy being creative' to waste his time with it – obviously his girlfriend has a little more time on her hands…
ARE YOU A TWITTERER? FOLLOW US HERE!
BECOME A MARIE CLAIRE FACEBOOK FAN HERE
Celebrity news, beauty, fashion advice, and fascinating features, delivered straight to your inbox!
Natalia is a health journalist with 14 years experience in the publishing industry. She has worked for a number of well known magazines and websites including Marie Claire, Woman&Home, Top Sante, Boots and The Telegraph. She likes to think she practices what she preaches when it comes to health and fitness. Her athletic prowess began early. A keen fencer for 13 years, she wielded an epée for Olympic Team GB during her teenage years. She likes to think she made sword-fighting cool before Game of Thrones came along! While working on her sporting performance with the team, she also participated in a lot of nutrition and psychology training, When it comes to time off, you'll most likely find her up a mountain somewhere. It seems holidays have become a time for climbing several thousand feet, rather than chilling out. She's now hiked eight of the major mountain ranges across four continents – including the Appalachians, the Smokies, the Sierra Nevadas (she spent her honeymoon hiking to the top of Half Dome), as well as hitting the summits of Snowdon, Pen-Y-Fan (Brecon Beacons), Table Mountain in South Africa, the Blue Mountains in Australia and the Atlas Mountains in Morocco. She's also passionate about all things health, particularly vaccinations, and will happily jump on her soap box at any given opportunity to talk about their benefits to anyone who will listen!