SEE Cameron Diaz shave her head
Witness Cameron Diaz lop off her locks in her latest tear-jerker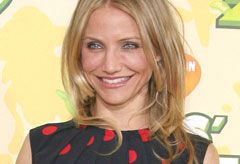 (Image credit: Rex Features)
Witness Cameron Diaz lop off her locks in her latest tear-jerker
Cameron Diaz shaves off her hair for her latest movie role in My Sister's Keeper, out of empathy for her character's cancer-stricken daughter. Diaz, renowned for playing bubbly, quirky blondes in romantic comedies such as My Best Friend's Wedding, may startle many of her fans, after taking on a far more challenging role.
Diaz plays mother to Kate, who is battling leukaemia in this adaptation of Jodi Picoult's best-selling novel of the same name. The movie follows the story of Kate's younger sister, Anna, who is conceived as a genetic match to save the life of her older sister. Anna later struggles with her parents for control over her own body, after they ask her to donate one of her kidneys to her ailing sister.
WATCH THE TRAILER BELOW:
Fans of the A-lister need not be alarmed however; Diaz has not followed in Demi Moore's footsteps, circa GI Jane, and shaved off her luscious locks for real. Instead, the star is said to have used numerous wigs and skull-caps for the scenes.
Have your tissues at the ready for what could be this year's biggest tear-jerker - it hits UK screens on 26 June.
FOR MORE GORGEOUS CAMERON DIAZ PICS CLICK HERE
ARE YOU A TWITTERER? FOLLOW US HERE
Celebrity news, beauty, fashion advice, and fascinating features, delivered straight to your inbox!
Natalia is a health journalist with 14 years experience in the publishing industry. She has worked for a number of well known magazines and websites including Marie Claire, Woman&Home, Top Sante, Boots and The Telegraph. She likes to think she practices what she preaches when it comes to health and fitness. Her athletic prowess began early. A keen fencer for 13 years, she wielded an epée for Olympic Team GB during her teenage years. She likes to think she made sword-fighting cool before Game of Thrones came along! While working on her sporting performance with the team, she also participated in a lot of nutrition and psychology training, When it comes to time off, you'll most likely find her up a mountain somewhere. It seems holidays have become a time for climbing several thousand feet, rather than chilling out. She's now hiked eight of the major mountain ranges across four continents – including the Appalachians, the Smokies, the Sierra Nevadas (she spent her honeymoon hiking to the top of Half Dome), as well as hitting the summits of Snowdon, Pen-Y-Fan (Brecon Beacons), Table Mountain in South Africa, the Blue Mountains in Australia and the Atlas Mountains in Morocco. She's also passionate about all things health, particularly vaccinations, and will happily jump on her soap box at any given opportunity to talk about their benefits to anyone who will listen!