Seal talks about new baby Lou, and says his family is the perfect size
Proud dad Seal speaks out about the birth of new baby Lou Sulola Samuel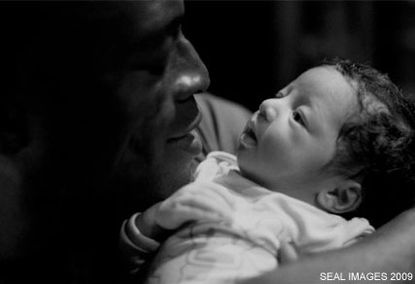 Proud dad Seal speaks out about the birth of new baby Lou Sulola Samuel
Proud dad Seal has spoken out for the first time about the birth of baby Lou Sulola Samuel, his third child with wife Heidi Klum.
In a recent interview, Seal - who already has two sons with Heidi, plus her daughter Leni from a former realationship - admitted he was worried about the new arrival.
SEE SEAL & HEIDI'S GORGEOUS BABY PICTURES HERE
'I found myself thinking, before she was born, 'We've got three kids, how on earth am I going to find anymore love to give to another kid?' he said.
'Then, of course she turned up at the hospital and the first time I held her in my arms, she looked up at me with this frown - which she's definitely got from me - with a look on her face as if to say, 'Oh my God, I've got a sneak suspicion that's my father!
'I just fell in love at that point.'
Meanwhile, new mum Heidi took eight-week-old baby Lou Sulola Samuel on her first shopping trip in Los Angeles over the weekend.
The tiny new addition to the family was safely snuggled up under a fluffy pink blanket, dressed in a coordinating pink hat and baby-gro. Cute!
Baby Lou obviously hasn't inherited mum Heidi's passion for shopping quite yet though, as the tiny tot slept through most of the trip.
What do you think of Seal and Heidi's gorgeous new addition to the family? Let us know your thoughts in the comments box below.
SEAL AND HEIDI'S GORGEOUS BABY PICS SEE HEIDI ON THE VICTORIA'S SECRET CATWALK
Celebrity news, beauty, fashion advice, and fascinating features, delivered straight to your inbox!