Ryan Giggs' sister-in-law given £500 for abortion
The footballer's lover has claimed Giggs paid for her to abort his child, one week before she married his brother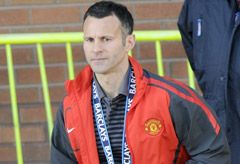 (Image credit: Rex Features)
The footballer's lover has claimed Giggs paid for her to abort his child, one week before she married his brother
After weeks of shocking revelations, it seems things are still set to get a lot worse for Ryan Giggs.
After admitting to an eight-year affair with the shamed football star, his sister-in-law Natasha Giggs has claimed he gave her £500 to abort his baby, just two weeks before her wedding to his brother Rhodri.
MORE SHOCKING CELEBRITY SCANDALS
Natasha decided to come clean about the affair to the News of the World last weekend, when she discovered the footballer had been seeing both her and Big Brother contestant Imogen Thomas.
And rumours soon hit that details of a third affair – which Giggs' reportedly put an end to on his wedding day - were set to emerge.
Now, in the latest shocking turn of events, Natasha Giggs has claimed she fell pregnant with Ryan's child, and was paid £500 by the footballer to abort the baby – just two weeks before her wedding to his brother Rhodri, last June.
'I was crying. All I kept thinking was, I'm getting married to Rhodri next month and I'm pregnant to Ryan, his brother,' Natasha told the News of the World.
'It was a roasting hot day and Ryan came on his push bike. He was in his shorts and sunglasses and handed me £500, saying that was all he could get out.
'I'd never asked him for money so it was very difficult. I was very upset, very tearful,' she added.
The latest allegations come as Ryan reportedly prepares to return home for 'crisis talks' with his brother and family.
Last week it's thought the footballer whisked his wife Stacey and two children away on holiday, in an attempt to repair his broken marriage.
Celebrity news, beauty, fashion advice, and fascinating features, delivered straight to your inbox!