Robert Pattinson hits back at Kristen Stewart questions in US interview
'Who is actually asking? Is it in your contract?' Rob asked a flustered reporter who questioned him on his relationship with Kristen Stewart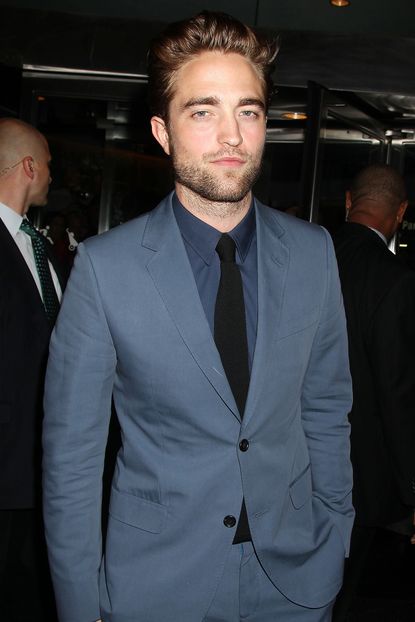 (Image credit: REX)
'Who is actually asking? Is it in your contract?' Rob asked a flustered reporter who questioned him on his relationship with Kristen Stewart
Robert Pattinson turned the tables on a flustered interviewer during an appearance on the Today Show yesterday, putting her on the spot after she tried to ask 'personal' questions about his relationship with Kristen Stewart.
ROBERT PATTINSON & KRISTEN STEWART: RELATIONSHIP IN PICS
It seems the actor, who usually manages to change the subject quite smoothly, wasn't in the mood to play nicely, and instead of skirting round the subject, challenged his interviewer.
As the TV slot began to a clip of Robert Pattinson and Kristen Stewart in a steamy embrace, host Savannah Guthrie asked Rob: 'Was that awkward, watching that love scene?'
Unfortunately Rob appeared not to notice, ignoring her question, and instead brushing his legs and asking: 'What have I got all over my trousers?'
Finally, he shot back: 'what were you asking?' to which she responded: 'I can't even remember.'
Taking the interview onto more comfortable ground, Guthrie asked Rob a series of questions about the final Twilight movie, and how he felt about finishing the famous franchise.
But nearing the end of the interview, she couldn't help having another stab, asking Rob to respond to Kristen Stewart's comments that she likes to 'keep them guessing' when it comes to her relationship to R-Patz.
Rob muttered 'no' before questioning 'keep who guessing?'
Rob continued: 'What I want to know... is who is actually asking? Is it in your contract?'
Awkward!
Regaining her lead, the interviewer laughed: 'Yes it's in the fine print, but it is personal,'
'It doesn't have to to be,' Robert hit back. 'It only gets personal if you answer it, he said, adding: 'I could sit here for hours and talk nonsense... about paper rounds, and getting old... needing a nap...'
Right then.
WATCH: Robert Pattinson arriving at the Today show below:
Was Robert Pattinson right to hit back at personal questions? Let us know in the box below…
ROBERT PATTINSON & KRISTEN STEWART: RELATIONSHIP IN PICS
ROBERT PATTINSON 'TIPSY' DURING TWILIGHT INTERVIEW
SEE ROB'S STYLE HIGHS (AND LOWS!) HERE
Celebrity news, beauty, fashion advice, and fascinating features, delivered straight to your inbox!