Is Robert Pattinson dating X Factor's Lucie Jones?!
The X Factor singer turned model opens up about R-Patz's advances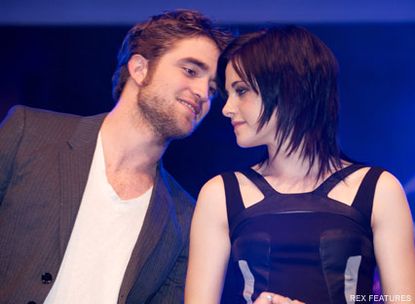 (Image credit: Rex Features)
The X Factor singer turned model opens up about R-Patz's advances
You can image our surprise when we found out that X Factor's Lucie Jones has been asked on a date by none other than Twilight's Robert Pattinson.
This news comes just as we were almost certain he was dating vampy co-star Kristen Stewart.
SEE ALL THE TWILIGHT PICS HERE
As far as we (and we think everyone else) were concerned, Robert and Kristen had secretly been an item for a while.
But recently X Factor's Lucie has revealed she is now the subject of Mr Pattinson's affection.
'His sister got in touch and asked if I wanted to come to dinner after the Twilight Saga: New Moon premiere a couple of weeks ago,' she revealed in an interview with Now.
But Lucie says at first she turned Robert down.
'Unfortunately I had to switch on the Christmas lights in Warrington on the same day! I couldn't believe I'd missed such an opportunity. I was gutted.'
Despite this, the teenage starlet remains confident they'll rearrange their plans soon.
'We're still in touch and we're going to go to dinner or something next week. I can't believe it - he's my dream man, I really, really fancy him. Kristen Stewart had better watch out!' she said.
Well, we're not sure what to think!
What are your thoughts on this recent revelation? Did R-Patz really ask Lucie on a date? Let us know your verdict in the comments box below.
SEE ALL THE TWILIGHT PICS HERE
R-PATZ AS YOU'VE NEVER SEEN HIM BEFORE
KRISTEN STEWART BEST FASHION MOMENTS
Celebrity news, beauty, fashion advice, and fascinating features, delivered straight to your inbox!