Robert Pattinson and Kristen Stewart's PDA at Breaking Dawn Part 2 premiere in London
Rob and Kristen seemed to be stronger than ever at the final Twilight premiere in London, with Rob even holding Kristen's hand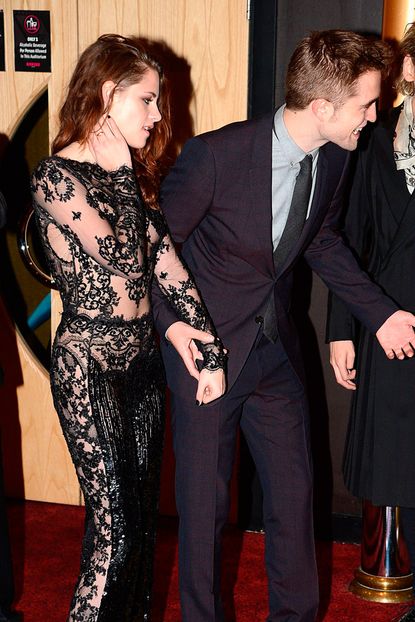 (Image credit: Rex Features)
Rob and Kristen seemed to be stronger than ever at the final Twilight premiere in London, with Rob even holding Kristen's hand
Robert Pattinson subtly taking hold of Kristen Stewart's hand inside the Twilight Breaking Dawn Part 2 premiere in London is another sign that the on and off-screen couple are back in a happy place.
The Breaking Dawn promotional tour rolled into London last night, and as Kristen walked the red carpet in Leicester Square in a striking sheer jumpsuit by Zuhair Murad, and Rob strutted his stuff in a dapper Burberry suit, all eyes were on the pair to pick up signs the couple were back on track after Kristen's affair with director Rupert Sanders.
As Kristen, Rob and the other main Twilight star, Taylor Lautner, took to the stage in London to talk to fans - some who had been camping out since the weekend - Kristen and Rob seemed to be in a loved up world of their own, leaving Taylor looking like a bit of a gooseberry. We've all been there. Sigh.
ANNA KENDRICK: BEING CUT FROM BREAKING DAWN IS BITTERSWEET
Kristen gazed at Rob as he cracked a few jokes and then when the trio headed inside the cinema to pose for yet more photos Kristen turned her back on Taylor and angled her whole body toward Rob.
ROB AND KRISTEN'S RELATIONSHIP: WHAT YOU DIDN'T KNOW
The tell-tale sign came when Rob grabbed hold of Kristen's hand to lead her off to talk to the rest of the Twilight cast.
So sweet.
Once their red carpet duties had been done, Kristen and Rob jumped in a car together and back to the comfort and privacy of their hotel.
Marie Claire was on the red carpet at last night's Breaking Dawn premiere, watch our interview with Robert Pattinson below:
BREAKING DAWN PART 2 PREMIERE PICS
Celebrity news, beauty, fashion advice, and fascinating features, delivered straight to your inbox!