Ricky Gervais' funniest Golden Globes moments
Ricky Gervais returned as host for last night's Golden Globes, despite causing a stir in Hollywood last year. We bring you our favourite one-liners and the best gags of the night from the king of quips himself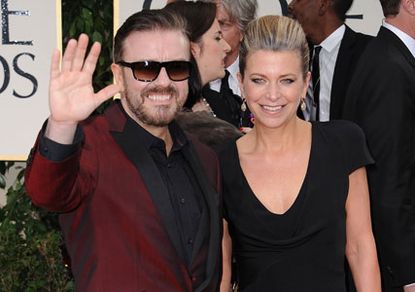 (Image credit: Rex)
Ricky Gervais returned as host for last night's Golden Globes, despite causing a stir in Hollywood last year. We bring you our favourite one-liners and the best gags of the night from the king of quips himself
Ricky Gervais returned as host for last night's Golden Globes, despite causing a stir in Hollywood last year. We bring you our favourite one-liners and the best gags of the night from the king of quips himself
Gervais caused controversy at the 2011 awards with his acerbic quips at several A-list guests including Charlie Sheen, the cast of Sex and the City and Bruce Willis, whom he introduced as 'Ashton Kutcher's Dad'.
SEE ALL THE STARS ON THE RED CARPET AT THE 2012 GOLDEN GLOBES
Angelina Jolie and Johnny Depp's film The Tourist also came under fire, with Ricky quipping: 'It was a big year for 3D movies – it seems everything was three dimensional... except for the characters in The Tourist.'
'I feel bad about that joke. I'm jumping on the bandwagon, because I haven't even seen The Tourist... Who has?' he added.
There was surprise all round when it was announced that Gervais would be back to host the awards for a third year running.
GOLDEN GLOBES 2012 - SEE ALL THE WINNERS HERE
The Hollywood Foreign Press Association, said: 'Not everyone is happy with the decision because last year his blunt one-liners targeting big-name celebrities caused anger and resentment in some quarters.'
But it seems that the 50-year-old may have mellowed slightly.
Last night the awards went off without a hitch and although still decidedly acid-tongued, Gervais managed to resist bringing Hollywood to its knees. Here are a few Gervais gems from last night's show:
'For any of you who don't know, the Golden Globes are just like the Oscars, but without all that esteem.'
'The Globes are to the Oscars what Kim Kardashian is to Kate Middleton. A bit louder, a bit trashier, a bit drunker and more easily bought. Allegedly.'
'Who needs the Oscars? Not me and not Eddie Murphy [who had been booked to host next month's Academy Awards before quitting over homophobia row]. When the man who said yes to Norbit says no to you, you know you're in trouble.'
[When addressing the winners] 'You don't need to thank everyone you've ever met or members of your family, who have done nothing. Just the main two - your agent and God.'
[On Bridesmaids] 'Farting, burping, cursing, performing wild sex acts, even pooping in the sink. I heard for research they spent the weekend with Dame Helen Mirren.'
[On Natalie Portman] 'Last year, our next presenter won both the Golden Globe and the Oscar for her work in Black Swan. This year, she took some time out to have a baby. Consequently, she's been nominated for nothing. Really pathetic. But she learned that valuable lesson you all already knew: Never put family first. Please welcome the very foolish Natalie Portman.'
'Our next presenter is the queen of pop - not you Elton, sit down. Please welcome Madonna.'
[On Antonio Banderas and Salma Hayek] 'They're ridiculously gorgeous specimens, they're extremely talented and probably very interesting. I'm not sure - I couldn't understand a f***ing word they said.'
'What you don't know about Colin Firth is he's very racist. I've also seen him punch a little blind kitten.'
Celebrity news, beauty, fashion advice, and fascinating features, delivered straight to your inbox!