Prince William reveals the Queen helped plan his wedding
The Duke has told how the monarch stepped in to help arrange his nuptials to Kate Middleton, earlier this year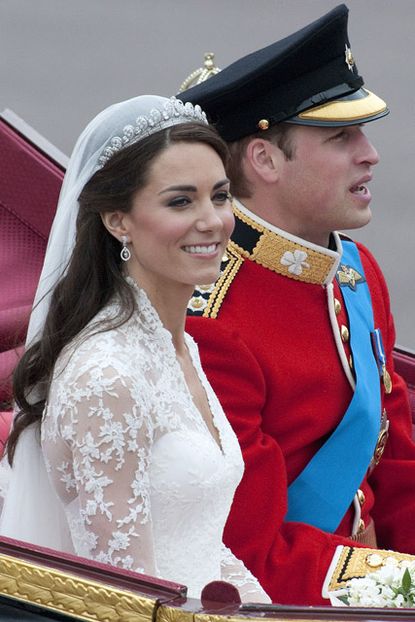 (Image credit: Rex Features)
The Duke has told how the monarch stepped in to help arrange his nuptials to Kate Middleton, earlier this year
Prince William has revealed the Queen helped him plan his royal wedding to Kate Middleton earlier this year, advising him to 'bin' a list of more than 700 figures and dignitaries he was told to invite.
Speaking to royal biographer Robert Hardman for his new book Our Queen, William told how his grandmother stepped in to help with plans for the royal nuptials, after he went to her for advice.
'I came into the first meeting for the wedding, post-engagement, and I was given this official list of 777 names — dignitaries, governors, all sorts of people — and not one person I knew,' the Prince revealed of the initial wedding plans.
'They said: "These are the people we should invite." I looked at it in absolute horror and said: "I think we should start again."'
But when the William went to his grandmother for advice, she told him to 'bin the list'.
'I rang her up the next day and said: "Do we need to be doing this?" And she said: "No. Start with your friends first and then go from there." And she told me to bin the list,' he said.
'She made the point that there are certain times when you have to strike the right balance. And it's advice like that, which is really key, when you know that she's seen and done it before.'
The prince also joked he had wanted to choose what he wore to walk down the aisle, but was told he must wear his Irish Guards uniform.
'I wanted to decide what to wear for the wedding,' he said, adding: 'I was given a categorical: "No, you'll wear this!"'
'So you don't always get what you want, put it that way. But I knew perfectly well that it was for the best. That "no" is a very good "no". So you just do as you're told!'
PRINCE WILLIAM & KATE MIDDLETON: ROMANCE IN PHOTOS THE ROYAL WEDDING IN PICTURES
Celebrity news, beauty, fashion advice, and fascinating features, delivered straight to your inbox!