Prince Harry furious over 'tasteless' kidnap drama
The young royal is said to be angry about the fictional Channel Four programme, which will show him being kidnapped while serving with in Afghanistan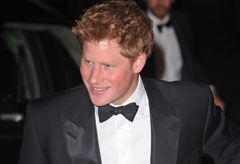 (Image credit: Rex Features)
The young royal is said to be angry about the fictional Channel Four programme, which will show him being kidnapped while serving with in Afghanistan
Prince Harry is said to be furious over a channel four drama, set to show him being kidnapped whiles serving with the armed forces in Afghanistan.
SEE MORE PRINCE HARRY PICS HERE!
The 90-minute drama – titled The Taking of Prince Harry – is said to portray what would happen if the Prince were to be taken prisoner by Taliban forces, and will show the young royal, played by Sebastian Reid, being held behind enemy lines.
It's said one shocking scene even shows the Prince's captors staging a mock execution, during a tense standoff.
But the show has been branded 'tasteless' by critics, who've slammed the 'work of fiction' as wholly 'inappropriate'.
'The depiction, fictional or otherwise, of a member of the Armed Forces being taken hostage and mistreated is deeply distasteful,' one angered military source said.
And last night a Clarence House spokesman blasted the docudrama as 'unhelpful'. 'We are not prepared to comment on this work of fiction,' a statement read. 'Speculation about the security of Prince Harry both as a serving member of the Armed Forces and as a senior member of the Royal Family is unhelpful.'
Although Prince Harry himself has declined to comment, he's said to be 'furious' about the show.
'He was made aware of the film on Tuesday and you can imagine his reaction, he was furious,' a palace insider told the Mirror. 'He is a professional soldier committed to fighting and there is no way he would let a stupid film deter him from that.'
'But he doesn't want to speak out against it himself because that would just be giving it more respect and publicity than it deserves.'
What are your thoughts on the controversial Prince Harry drama? Let us know in the comments box below.
SEE MORE PRINCE HARRY PICS HERE!
Celebrity news, beauty, fashion advice, and fascinating features, delivered straight to your inbox!