Nude portrait of pregnant Sienna Miller goes on display
Sienna Miller was nine months pregnant when she sat for the painting by Jonathan Yeo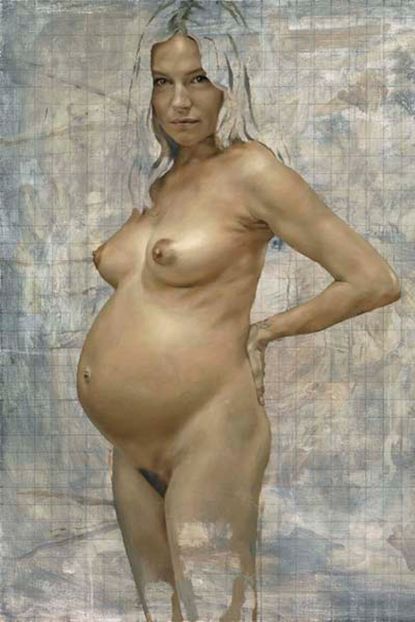 (Image credit: Jonathan Yeo)
Sienna Miller was nine months pregnant when she sat for the painting by Jonathan Yeo
A nude portrait of a pregnant Sienna Miller has been unveiled by British artist Jonathan Yeo.
The painting, which was done just weeks before Sienna gave birth to her daughter, Marlowe, will be shown at Yeo's (I've Got You) Under My Skin exhibition in Berlin.
'This portrait of Sienna was painted a few weeks before the birth of her baby Marlowe and is part of a series of pictures of her which I plan to exhibit next year,' wrote Yeo in the catalogue which accompanies the show.
SIENNA MILLER SHOWS OFF HER BABY BUMP IN LONDON
'It is a tribute to her courage and self-confidence that she agreed to sit for this. I can think of many figures whose public currency in part revolves around their appearance who would prefer to hide themselves away for nine months.'
The portrait will feature alongside a series of works dedicated to the 'contemporary obsession' with plastic surgery, for which Yeo spent 18 months observing cosmetic surgery patients in the UK and US for inspiration.
'I wanted an image that epitomised the human body in its most naturally beautiful state to make the sharpest possible contrast with my other paintings in this exhibition, which document patients undergoing cosmetic surgery in a bid to help them conform to societal notions of beauty.'
What do you think of the nude portrait of Sienna Miller? Let us know your thoughts in the comment box below.
SIENNA MILLER MAKES FIRST APPEARANCE AFTER BIRTH OF MARLOWE
SIENNA MILLER'S STYLE HIGHS & LOWS
WATCH: SIENNA MILLER IN THE GIRL
Celebrity news, beauty, fashion advice, and fascinating features, delivered straight to your inbox!