Nadine Coyle: I would never mime on X Factor
The Girl Aloud made a dig at Cheryl's Sunday performance, and says she is not a fan of the show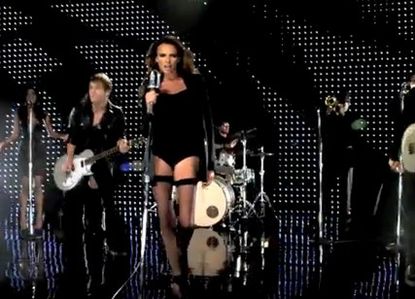 The Girl Aloud made a dig at Cheryl's Sunday performance, and says she is not a fan of the show
Nadine Coyle certainly knows how to attract attention. After being noticeably absent from band mate Cheryl Cole's X Factor performance on Sunday, she has fuelled rumours of a feud, by speaking out about the show and making a dig at Mrs C's miming in the process.
WATCH CHERYL'S X FACTOR PERFORMANCE HERE!
The fifth Girl Aloud – who has been camped out in LA during the band's yearlong break – is just about to launch her first solo single, Insatiable.
But despite being in London at the time she was noticeably absent when the three other Girls had a night out in the X Factor audience on Sunday to watch Cheryl Cole perform.
Now Nadine's revealed she doesn't watch the X Factor, and would never appear, as guests don't always sing live.
'I'm not doing Strictly Come Dancing or X Factor for this campaign,' she told the Metro. 'I only want to do live shows.'
'I think the problem, well not the problem as such, but what happens with TV shows is you can't always do things live. You can't really get the full effect.'
'I would rather go back to when I started doing music in Ireland and it was all live. I mean you just don't mime.'
This comes after Cheryl performed her new single – Promise This – on the show on Sunday, but only sung a small part of the hit live.
Nadine also revealed she's really not a fan of Cheryl's show, and couldn't be a judge herself, because they are 'too mean'.
'I don't watch X Factor. I've never been that much of a huge fan,' she said. 'I love the live shows when they're on and all singing great but I hate it when the judges say bad things about their singing.
'I feel sick because I feel it is mean because I've done the reality TV thing so I have such strong memories of what it feels like and I just imagine how bad and how nervous they must feel.'
Are you team Cheryl or team Nadine? Or would you see Girls Aloud back together again? Let us know your thoughts in the comments box below.
WATCH CHERYL'S X FACTOR PERFORMANCE HERE!
Celebrity news, beauty, fashion advice, and fascinating features, delivered straight to your inbox!